There are some surprising nicknames for playable characters, such as calling Tifa "Miss Busty" and Aerith "Aerith <3 <3" in the unused party select text in the original release of Final Fantasy 7.
Given the sheer size of the original Final Fantasy 7 (so huge that it's now split into three parts in the remake trilogy), it's probably not too surprising to hear that there's quite a bit of cut content. You might be surprised, though, by the amount of dialogue and text cut from the game, including cheeky nicknames for all of your party members.
RELATED: Final Fantasy 7 Rebirth Needs Its Own Awful Snowboarding Minigame
As shared by Redditor Hadrian_x_Antinous on the Final Fantasy subreddit, the unused data is taken from the original game's international field dialogue and features more jokes and weird text than the final release. Unused text refers to Cloud as "Mr. Cloud" and Barrett as "Master Barrett", but things go even further from there. It gets weird.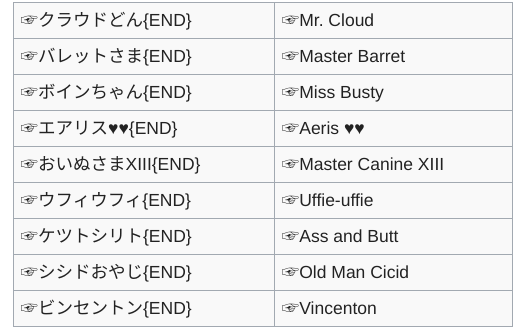 According to this unused dialogue, Tifa's nickname from the devs is "Miss Basti" or "Bazongus-chan" and I will definitely call her from now on. 3 <3' and simply showed how much he loved her, so he got a much more honorable nickname.
Speaking of favorites, it seems that Ket Sith is not one of them, as his nickname in the unused text is "Ket Sith", which essentially translates to "Ket Sit". Red XIII's nickname, on the other hand, is "Master Canine XIII", which is neither offensive nor funny, but he There is an ongoing debate about whether is a wolf or a cat.
And Yuffie, who is nicknamed "Yuffie Affie", and Cid, who is nicknamed "Grandpa Sisid". Finally, everyone's favorite Goth Vincent is called "Vinsetron". This is the Transformers crossover I never knew I needed. Hadrian_x_Antinous speculates that this naming screen was pulled from the infamous Final Fantasy 7 silly debug him menu and apparently wasn't meant to be seen by anyone but the developers .
However, these weird nicknames weren't the only ones given to the main cast. The developer had many other funny jokes, as Hadrian_x_Antinous showed off in a video detailing his English debug room. The text refers to Cloud as "Cloud Star", Tifa as "Tiffalonia", and for some reason names Barrett as "Balletator".
Next: You don't have to reinvent the wheel