Below is a list of my top 100 things I dislike about Tears of the Kingdom. Number 100 is a puddle of dark hands that pops up out of nowhere and grabs me when I'm on my own errands. Seriously, take that dirty little finger off of me. Number ninety-nine is the fact that you have to sleep, eat and work instead of just playing Tears of the Kingdom all the time. And numbers 98 through 1 will appear each time you have to scroll through the menu trying to find something specific. Whether you're using the pause menu or the quick access menu, trying to find what you're looking for always takes time.
I know Tears of the Kingdom has made some improvements to Breath of the Wild's menu interface, but it's still far from perfect. Crafting food and elixirs isn't too much of a hassle, but it's a hassle until you're completely out of resources, or you're wasting the last few meals you need to just stay and get effects you don't need. I realized that I was avoiding working alive. Crafting is a very basic element of TOTK gameplay. I can't believe more thought was given to making that process simpler so that players don't have to spend so much time looking through menus when they're just thinking about what they want to do. Let's go back to adventure.
RELATED: Tears of the Kingdom is much more gating than BOTW so far
Unnecessary complexity, lack of information, and poor navigation combine to add complexity. When approaching the Crockpot, you should be able to interact with it and open a menu to select a group of ingredients to throw in. Instead, you should stand close to the cooking pot, but be careful not to get too close. Unable to keep items – then manually open the inventory, select the item, select keep, then select the rest of the items you want to keep, exit the menu, aim the cooking pot and press A to throw It's madness. Both Monster Hunter and Lead Dead Redemption are two of the most cumbersome series of all time, but why bother to cook fish?
Searchability is an even bigger issue for me. I currently have 110 items in my material pouch, but I can't find what I'm looking for. The best sorting option when cooking is to sort by type, but you still have to manually sort through a long list of ingredients to find what you need. That's assuming you know what the ingredients are. looking for. Ingredients do not have the same icon as food, so to find the ingredients you need for non-slip, temperature control, darkness damage recovery, speed, stealth, or other status effects, all item text You must read to the end. Find what you need. Couldn't each ingredient have an icon associated with it, or at least have the associated text bolded? There are 110 different ingredients here, and I remember how they all worked. cannot be expected.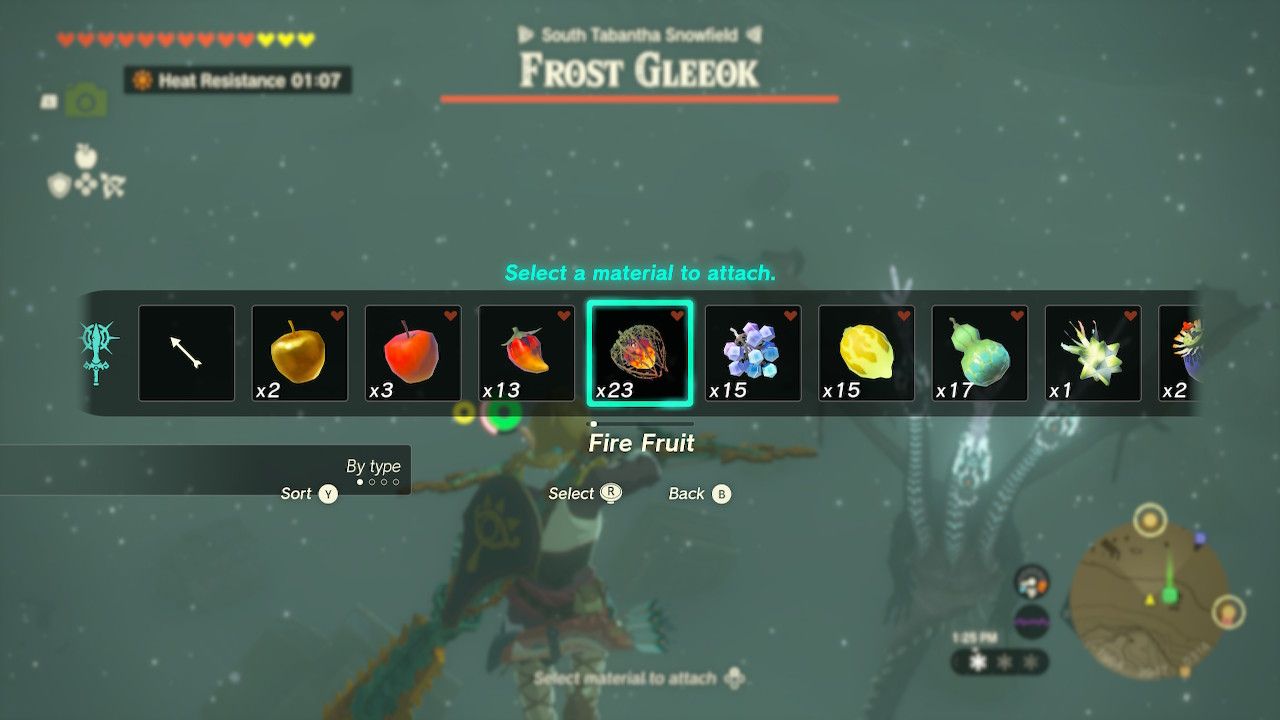 Poor navigation, especially when using the quick menu, has a big impact on how you play the game. When you open the materials menu, you'll sort by most used or by fuse attack power. I'm good at sticking monster parts to arrows and swords. Because the strongest parts always come first on the list. But I know I'm missing elemental effects and other usefulness for other weaker monsters. We can provide parts. It's rewarding because just crafting the highest damage weapon saves you time in the menus. Similarly, sorting by most used will always allow you to use the same items and the same strategies. Experimentation and creativity are all about TOTK, but the menu is limited, so I always end up using the simplest and easiest strategies.
I wish there was some other way to sort the menu so I could find items more easily or try more. I hate scrolling through horizontal quick access menus, and I hate pausing the game to check my inventory. All the cumbersome menus I'm forced to navigate prevent my time from actually playing the game and threaten my immersion in the developers' painstakingly crafted Tears of the Kingdom. I don't want to explore a list of vegetables and offal, I want to explore the world.
Next: Anyone else burned out from Zelda's Zonite Grind?