Quick Links
Best Talents For Holy Paladin
Best Stats And Gear For Holy Paladin
With the introduction of World Of Warcraft: Dragonflight's new talent trees, many specs have received a variety of new builds. Holy Paladin is one such example, and a healthy number of viable builds have risen to prominence, providing the iconic healer with a plethora of enjoyable options. A flashy and powerful healing spec, Holy enjoyers, both old and new, are sure to find a playstyle to suit them.
RELATED: World Of Warcraft: Dragonflight – Tips For Returning Players
This guide will teach you how to play Holy Paladin in PvE content, as well as suggest why you may want to try it out in the first place. The strongest available talent builds will be covered alongside the best healing rotations, consumables, races, and gameplay tips.
Updated on April 7, 2023, by Alex Ferriday: The 10.07 Patch brought heavy changes to the Paladin class, as large sections of its various talent trees were shuffled around. This freed up some room in the specialisation trees, meaning specs like Holy got to choose new build options. This guide has been updated to reflect these changes and provide new advice on how best to build your Holy Paladin talents.
Why Holy Paladin?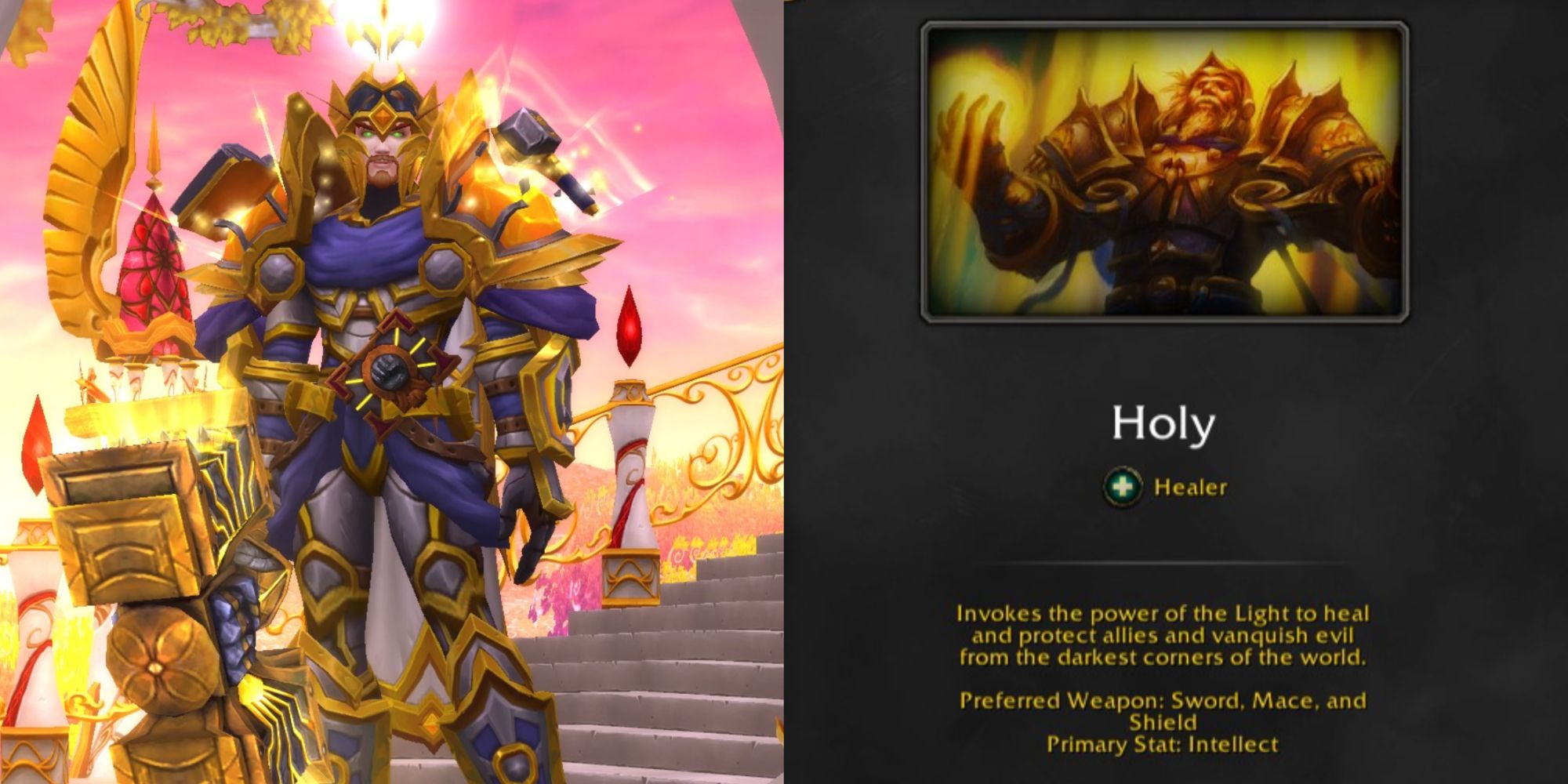 The recommended advice when choosing a spec is always to play what you enjoy. You tend to perform better if you are having fun, and picking something just because it's parsing well at the time is not always a great option. Every spec has strengths and weaknesses, and Holy Paladin is no exception.
Pros

Cons

Great Spot Healer: Holy has always been excellent at healing large spikes of single damage and is one of the premier tank healers around without risking running out of mana.
Fantastic Utility: Thanks to being a Paladin, Holy possesses some amazing spells that can turn the tables during a fight and help keep your allies alive through more than just raw healing.
Good Damage: Many of Holy Paladin's builds have an emphasis on outputting damage to augment their healing. This makes them a strong choice on Mythic Plus when you need to meet that all-important DPS check.
Excellent Class Fantasy: Bursting with radiant light at every cast, Holy is a visually impressive spec to play, and produces some truly memorable moments.
Multiple Viable Playstyles: While many classes are pigeonholed into one or two builds, Holy Paladin players are at liberty to play around with multiple options.

Poor Mobility: Riding around on your Warhorse has its limitations, and you might be looking enviously over at that Druid effortlessly evading mechanics
Struggles with AoE Healing: While Holy can certainly perform well enough in this department, it lacks the easy-to-use options of other healers and has to work harder to heal a large group
Cooldown Dependent: When encountering periods of high damage, Holy can struggle without having a cooldown up, such as Avenging Wrath, as it relies mainly on burst healing.
Best Holy Races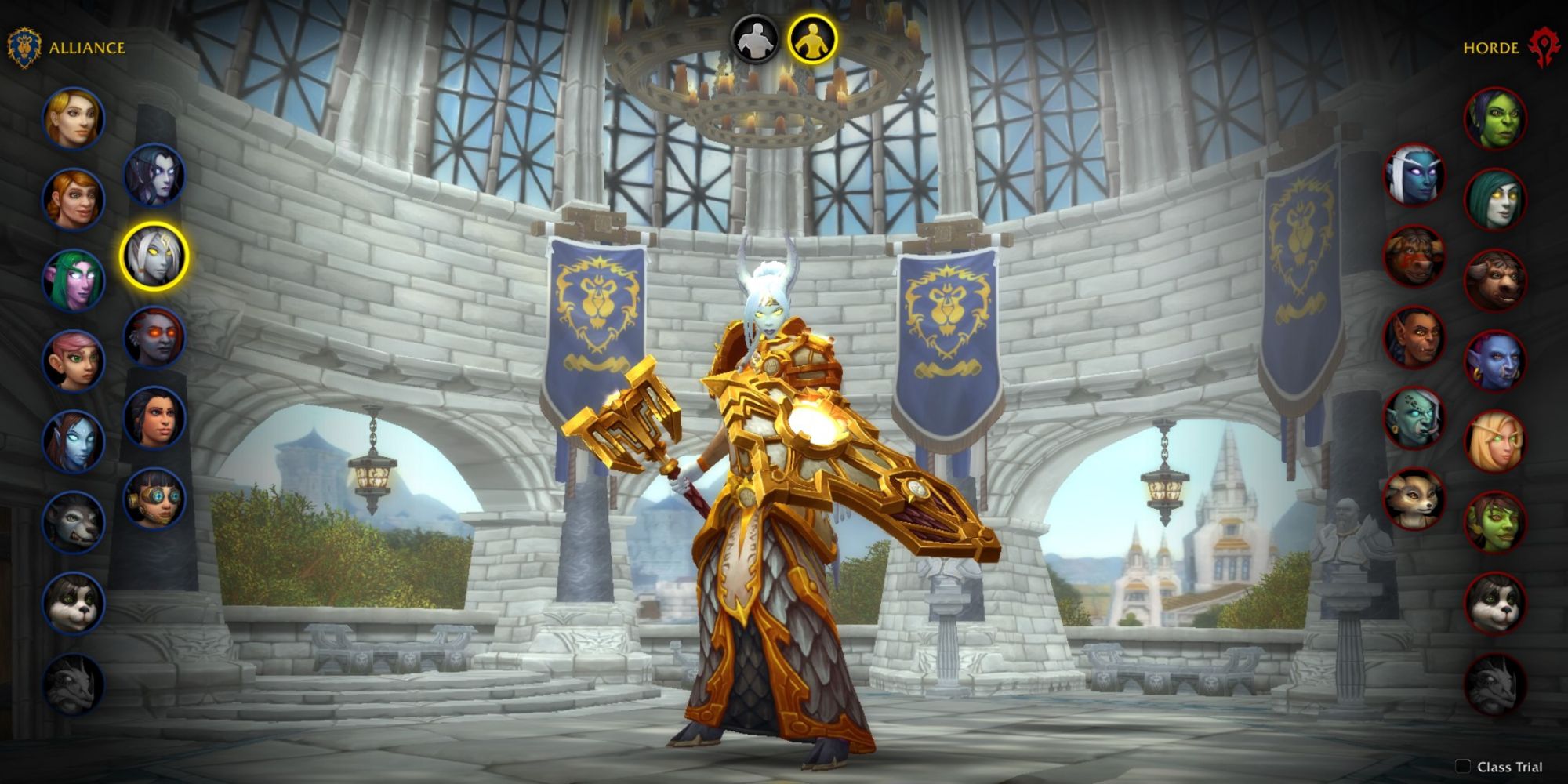 Most players will pick their race based on visuals and one that they feel embodies their character. Saying this, some nice perks synergise well with playing Holy Paladin, so if you're not concerned with how your character looks, these are the best options in terms of power.
The difference between races in WoW is minimal, and you shouldn't feel you need to worry about choosing the 'strongest' race unless you are taking part in very high-end content or if you want to completely min-max your performance.
| Race | Racial Name | Effect |
| --- | --- | --- |
| Human | The Human Spirit | Gain 2% increase to all secondary stats |
| Tauren | Brawn | Extra 2% on critical damage and healing |
| Zandalari Troll | Embrace of Pa'ku | Chance for a 4% critical strike buff |
| Draenei | Gift of the Naaru | Active, which places a small heal over time on you or an ally (3-minute cooldown) |
Best Talents For Holy Paladin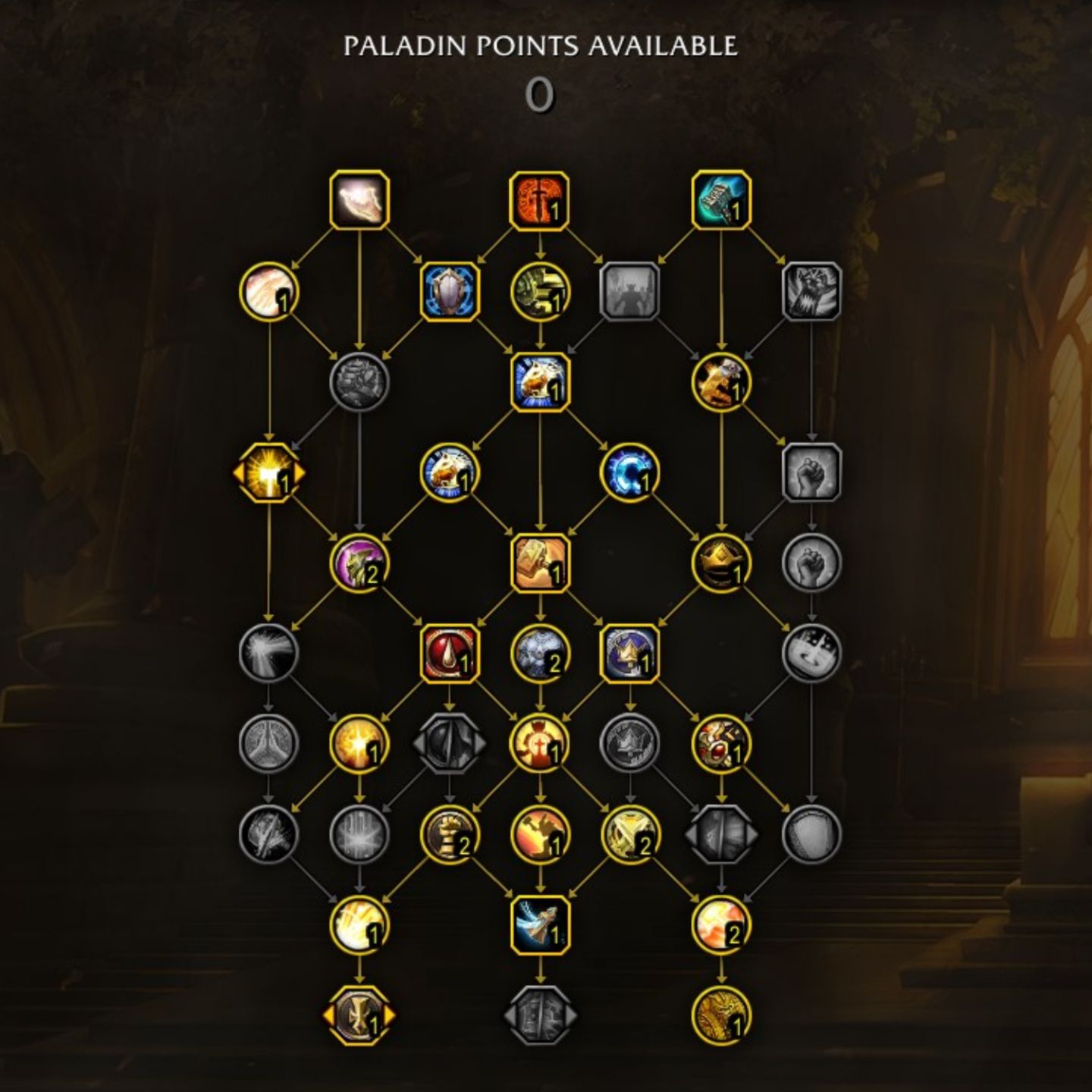 Holy Paladin Class Talent Tree
Paladin Class Tree

Row One

Lay on Hands

Excellent single-target burst heal.

Blessing of Freedom

Removes all movement-impairing effects from you or an ally.

Hammer of Wrath

Nice Holy Power generator, especially in Mythic Plus.

Row Two

Aura of the Resolute

You will want to be in Devotion Aura except for niche situations, synergises excellently with Aura Mastery to provide a decent damage reduction for everyone within range.

Obduracy

Speed and Avoidance two percent increase.

Aura of Swift Vengeance

Rarely will you want to be in these Auras, but take it to progress down the tree, and Crusader Aura is nice for the open world movement increase.

Row Three

Divine Steed

Your mobility spell, the speed increase is substantial, so don't waste it.

Greater Judgment

Small damage on your Crusader Strike or Holy Shock increase after using Judgment.

Row Four

Blinding Light

Useful AoE disorient in Mythic Plus.

Cavalier

Two horses are better than one.

Seasoned Warhorse

Longer horse is a better horse.

Row Five

Holy Aegis (2/2)

Stats are nice, free Armor and Crit are always welcome.

Avenging Wrath

Your major healing cooldown, otherwise known as Wings, this is an integral spell to playing Paladin.

Justification

Increases Judgment damage for Avenging Crusader build.

Row Six

Golden Path

Adds a small heal over time to your Consecration; make sure to be in melee to make full use of this.

Blessing of Sacrifice

A key spell, gives you a strong external cooldown for your tanks or those taking heavy damage.

Sanctified Plates (2/2)

Increased armour and Stamina, while also reducing damage taken by area-of-effect attacks.

Blessing of Protection

Great spell that provides complete Physical Damage immunity to you or an ally, this can also be used to drop aggro on the target.

Row Seven

Afterimage

Creates an echo of your Word of Glory after spending 20 Holy Power, difficult to play around, but a nice passive healing increase.

Sacrifice of the Just

The more Sacrifices, the better.

Unbreakable Spirit

Reduces cooldown of Divine Shield, Divine Protection, and Lay on Hands; all great spells.

Crusader's Reprieve

Increased the range of your auto attacks, Rebuke, and Crusader Strike, as well as granting a small heal from Crusader Strike.

Row Eight

Strength of Conviction (1/2)

Extra Word of Glory healing and Shield of the Righteous damage whilst in your Consecration.

Judgment of Light

A small heal from your Judgments, nice passive talent but not very impactful.

Seal of Might (2/2)

Extra Mastery and Intellect.

Divine Purpose

Chance for free Holy Power spender procs when using previous spenders, can chain off itself and is very powerful for some random extra healing.

Seal of Alacrity (2/2)

Extra Haste and Judgment cooldown.

Row Nine

Of Dusk and Dawn

Buff after casting three Holy Power generators, granting you extra damage and healing, alongside reduced damage taken.

Divine Toll

Fires up to five Holy Shocks out at enemies or allies, depending on which you are targeting.

Seal of Crusader (2/2)

Extra auto attack damage, only for Avenging Crusader build.

Row Ten (Keystone Talents)

Fading Light/Seal of Order

Augments Of Dusk and Dawn to be even more powerful, but doesn't change its gameplay. Choose Seal of Order only when playing Avenging Crusader.

Divine Resonance

Provides a free Holy Shock every five seconds after casting Divine Toll, for fifteen seconds.

Zealot's Paragon

Extends Avenging Wrath duration when Judgment or Hammer of Wrath are cast and increases their damage.
A shared tree between all three Paladin specializations, the class tree allows you to pick up a healthy amount of useful spells, alongside some powerful passives. Your class talent tree route will vary slightly depending on your build, but the core spells remain very similar.
Being able to talent into an interrupt is great for Mythic Plus, and you can also invest in increased damage if you are comfortable with the healing requirements of your chosen content. Your class tree path will vary depending on your build, as Avenging Crusader will benefit much more from sources of increased damage.
Melee Build Talents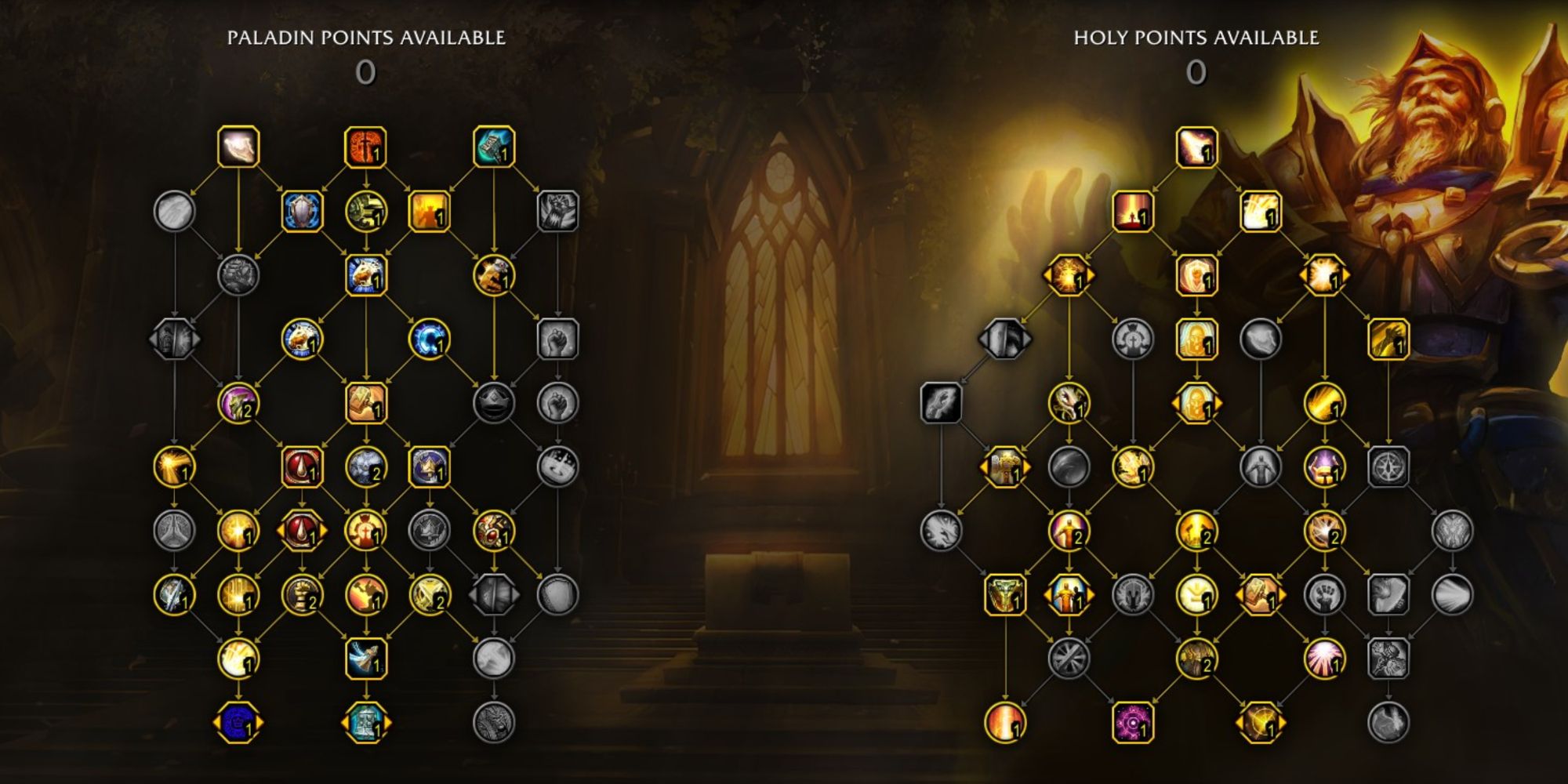 Talent Build Code: BEEAAAAAAAAAAAAAAAAAAAAAAAAHAAABAQAAACQJJQUSLJ0EpIRSJwBaJCSQSJJkkQkGIJCAIAQBIE
The standard build that Holy used throughout Shadowlands, relies on using your Holy Shock to spread Glimmer of Light for increased passive healing. Staying in melee and attacking the enemies is core to playing this build at max effectiveness.
The major strength of this build is the damage that it can output, and Holy Power generation is substantial due to all the attacks you will be performing.
Keeping Glimmer of Light up on as many people as possible is vital, and Holy Shock should be used nearly on cooldown. This setup can suffer when having to move far away from an enemy, as your ranged healing options are weakened compared to other builds.
Maraad's Build Talents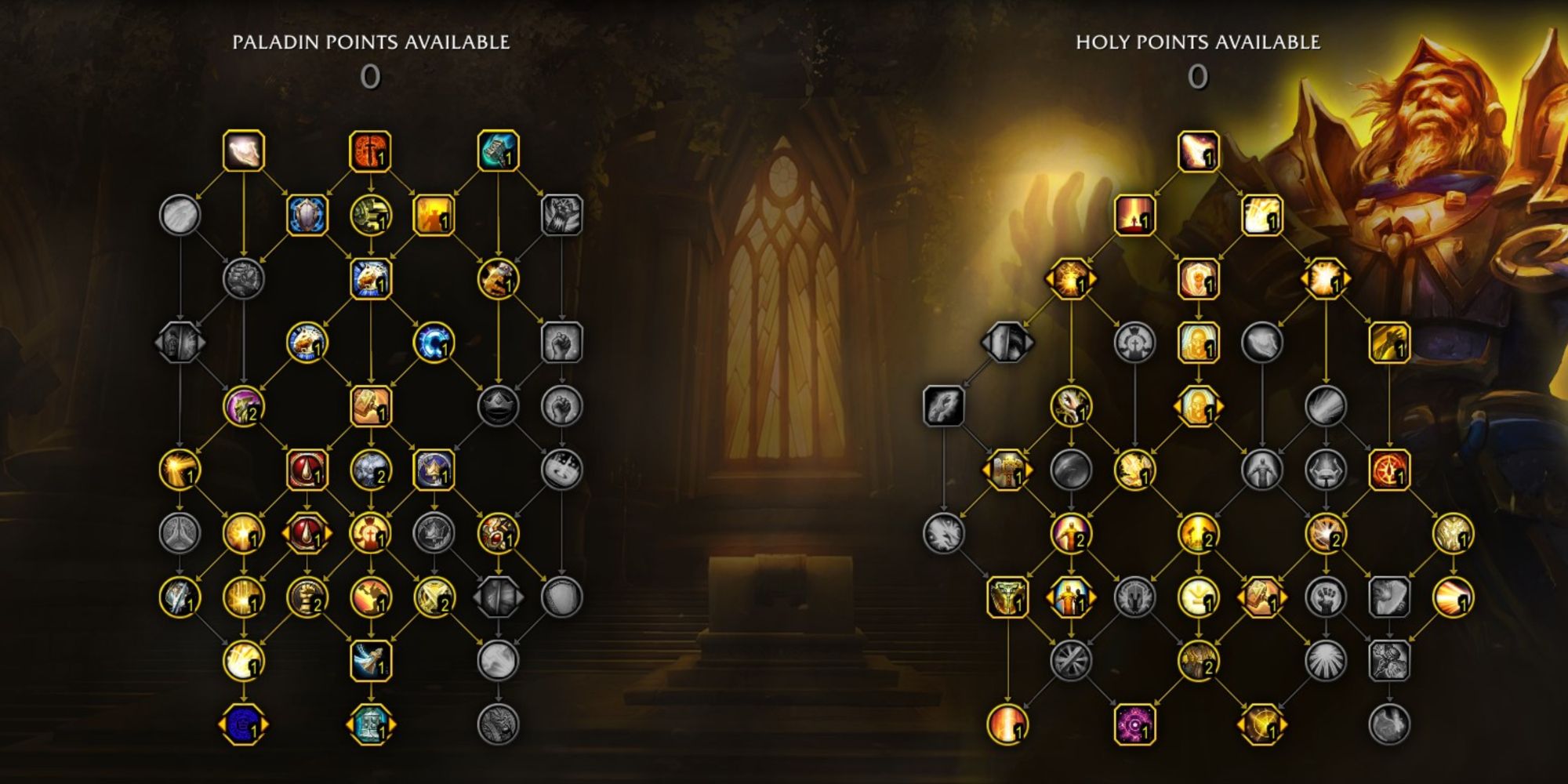 Talent Build Code: BEEAAAAAAAAAAAAAAAAAAAAAAAAHAAABAQAAACQJIJRJtkQTkiEJlAaJCSQSJJkkQkGIJCAIAQBIE
A more niche build is the Maraad's, which focuses on utilising the Maraad's Dying Breath talent. This causes your Light of Dawn to increase the power of your next Light of the Martyr. A spell that is normally only used as an emergency heal quickly becomes your primary source of healing, and you can output some exceptional bursts when playing this setup.
Spot healing-wise, this build is probably the best in the game and could be pivotal in a difficult progression fight. However, it does take some adjustment to your normal gameplay and might take a little while to fully learn.
Avenging Crusader Build Talents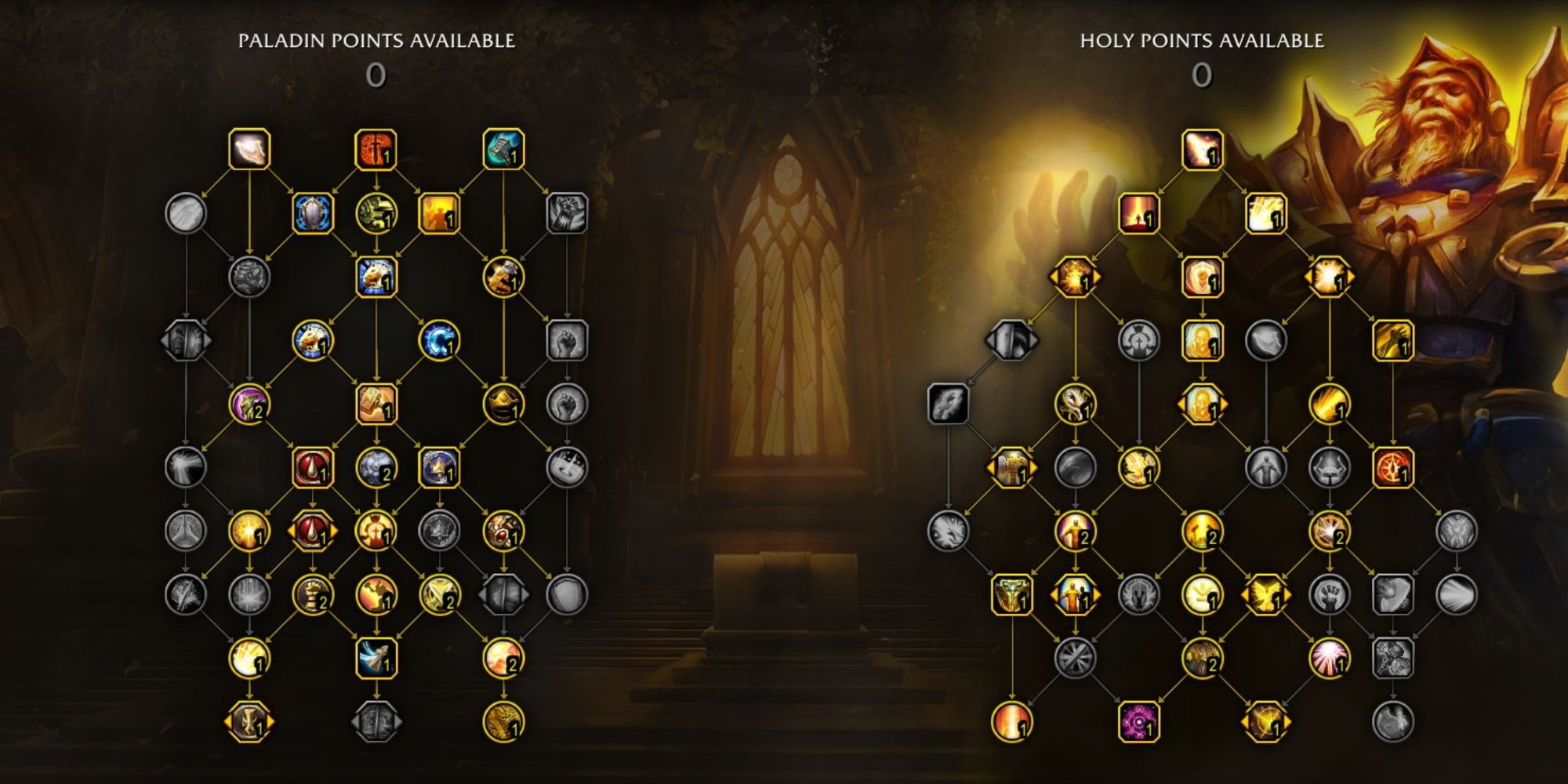 Talent Build Code: BEEAAAAAAAAAAAAAAAAAAAAAAAAAAQAASAAACQJJQUSLJ0EpIRSLwBaJCSQSRQSCRKESiAACABgQA
A more damage-focused build sees you playing the Avenging Crusader talent. This turns your major healing cooldown into a five Holy Power, 45-second cooldown spell that empowers your Judgment and Crusader Strike with reduced cooldowns and makes them heal up to three nearby allies depending on their damage.
Due to this build seeing you make greater use of Judgment and Crusader Strike, Holy Shock becomes lower in priority. During your Avenging Crusader you should always try to lead off with a Judgment, as this will increase the damage of your next Crusader Strike.
Talents that increase your damage now increase your healing and playing around a slightly less bursty but more consistent cooldown is a playstyle you might prefer, especially for encounters with consistent damage over time.
Mythic Plus Talents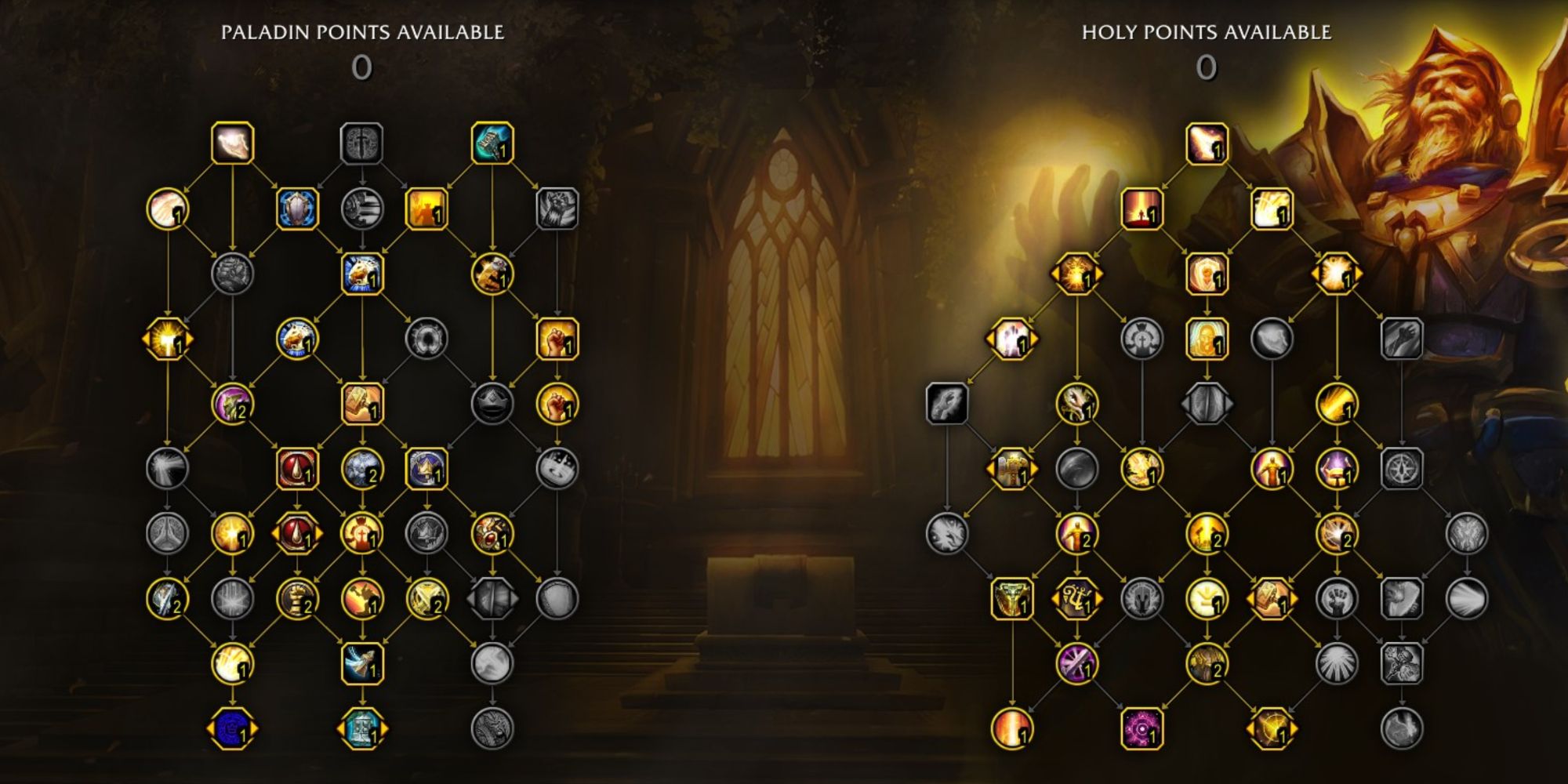 Talent Build Code: BEEAAAAAAAAAAAAAAAAAAAAAAAABAABAEBAAIAtkAUiko0EpIRSJBaJHIaESSRQSCRaAiAACEQBIE
A hybrid between the caster and melee builds, for dungeons, Holy Paladin picks up a new selection of talents that empower their own damage and augment their burst healing.
Healer damage is very important when trying to push keys, and Holy is a good choice when it comes to DPSing. Consecration is vital to use on cooldown, and when weaving in your Crusader Strike, Judgment, and Holy Shock, you should be able to contribute effectively to the meters.
For higher keys, you will need to make use of your Beacon of Virtue to burst heal, and your low AoE healing might be tricky to get used to, so practice using your cooldowns to get you out of tough spots.
A nice bonus of playing Holy is that you will rarely, if ever, need to stop for mana.
How To Play Holy Paladin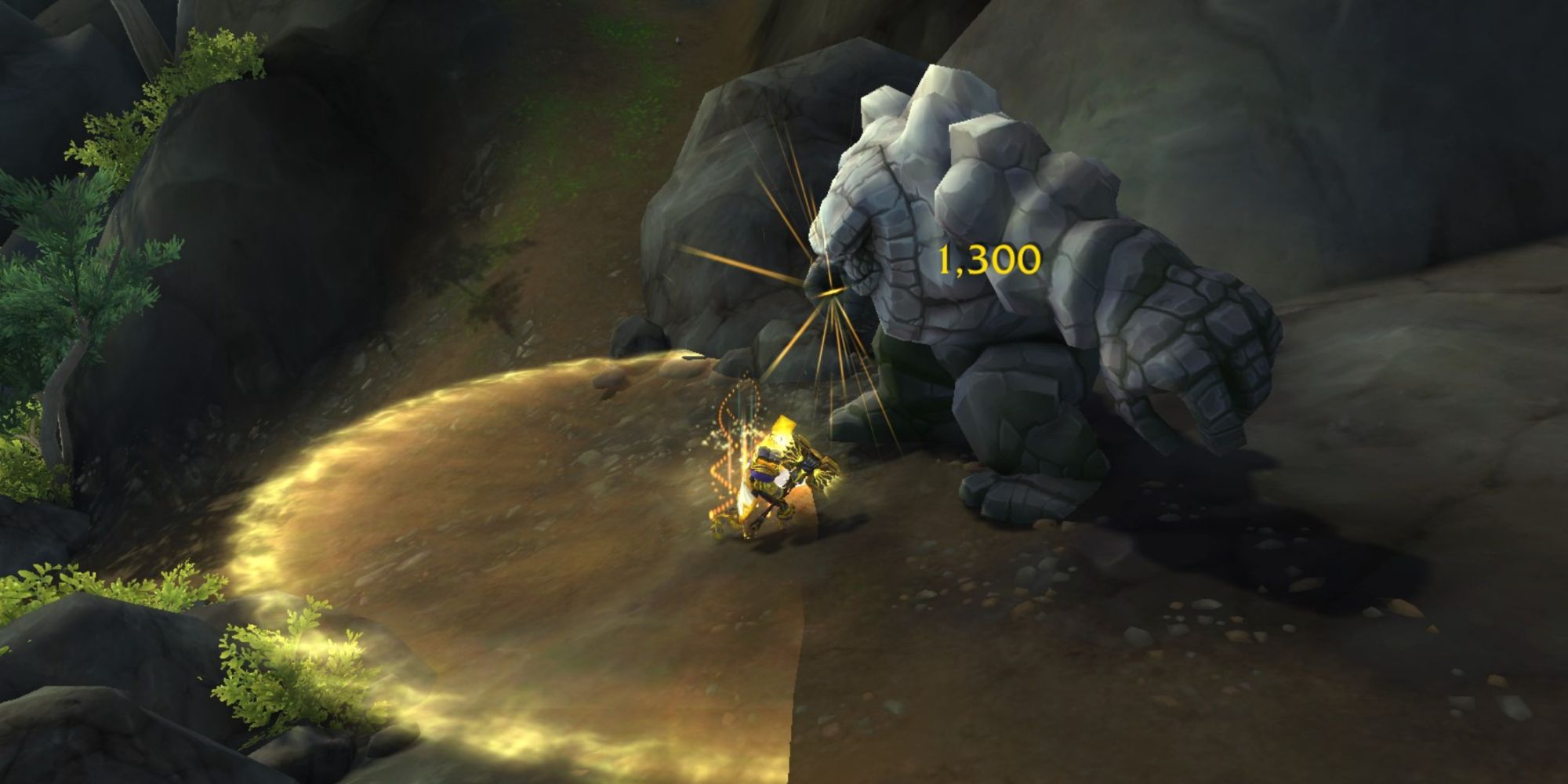 Due to being a healing spec, Holy does not rely on a strict rotation. Instead, you will need to decide on a moment-to-moment basis how best to keep your group alive.
Whether your group is taking damage, about to take damage, or if you need to deal damage has to be considered, and it makes for a playstyle where there is no set-in-stone rotation.
In essence, you want to build Holy Power and spend it on your strongest healing spells. Holy Power can stack up to five and can be spent in groups of three.
Try not to waste Holy power by overcapping, and always be looking to generate, as your smaller healing spells are not sufficient enough to deal with heavy damage.
Your best healing rotation will vary depending on which build you are playing, but some fundamental spells you need to understand are:
Ability

Explanation

Beacon of Light | Beacon of Faith

You should always have your Beacon on the target who requires the most healing. For dungeons, you can keep one Beacon on the tank, and transfer the other around depending on the situation.

---

In raids, having both on the tanks is viable, although a skilled Holy player will adjust them throughout the fight. The Beacons cause healing to be replicated onto that target, and you can generate extra Holy Power when casting on them.

Word of Glory

World of Glory is your single target Holy Power spender and is a moderate instant cast heal. Many talents will augment this ability but just know that this is your primary option for spot healing.

Light of Dawn

Light of Dawn is the AoE equivalent of Word of Glory and fires a cone of healing in front of you. It provides another reason to play in melee. Some skill is required in terms of your positioning, as you will need to hit as many allies as possible.

---

Standing just behind the melee group is a good spot, and the 15-yard range is not very large, so make sure you are also in range of the tank(s).

Holy Shock

Holy Shock is a core spell and casts a small instant heal. The cooldown is very low and can be reduced with certain talents, such as Crusader's Might.

---

With Glimmer of Light, you will want to be frequently using this spell, although don't expect it to fully heal somebody. It will also generate Holy Power, something you should always be looking to build so that you can fire off your stronger heals.

Divine Toll

Divine Toll is an excellent one-minute cooldown spell that fires off up to five Holy Shocks at nearby allies or enemies, depending on what is targeted. This is a very strong spell, particularly in dungeons, where you can often top up your entire group. Make good use of this in situations where you need quick AoE healing and Holy Power.
Some general rules to follow with any of the Holy Paladin builds are:
Build Holy Power with Crusader Strike, Judgment, and Hammer of Wrath, as well as Infusion of Light procs
Keep Consecration down underneath the enemies
Keep Judgment of Light (if talented) up on the boss
Spend Holy Power with Word of Glory, Light of Dawn, or Shield of the Righteous (for damage)
Use cooldowns such as Avenging Wrath, Divine Toll, or Aura Mastery to deal with heavy incoming damage
Holy Paladin Macros
One of the best macros you can use as a Holy Paladin is the mouseover macro, meaning you don't need to click player frames to heal them. You will have to make a macro for each ability you wish to mouseover cast, e.g. Holy Shock.
#showtooltip /cast [@mouseover,exists][@target,exists][@player]Holy Shock
Another helpful macro is using your active trinket(s) with your Avenging Wrath cooldown to further empower your healing/damage. You can easily do this by calling whichever slot the trinket is placed in, either 13 or 14.
#showtooltip /cast Avenging Wrath /use 13
Sometimes you will want to cancel certain buffs. For example, Blessing of Protection will make you completely immune to Physical Damage, but there may be times when you need to be hit by an ability, and instead of right-clicking the buff, you can use this macro to remove it.
#showtooltip /cast Blessing of Protection /cancelaura Blessing of Protection
If you are talented in Rebuke for Mythic Plus difficulty, you might need to be interrupting enemies, and setting them as your focus target will allow this macro to interrupt them instead of retargeting them during the fight.
#showtooltip /cast [@focus,harm,nodead] [ ] Rebuke
As a healer, you often cast utility spells on other players. Instead of targeting their player frame, you can instead use this macro, e.g. for Blessing of Sacrifice
/cast [@NAMEOFPLAYER] Blessing of Sacrifice
RELATED: World Of Warcraft – How To Create Macros
Best Stats And Gear For Holy Paladin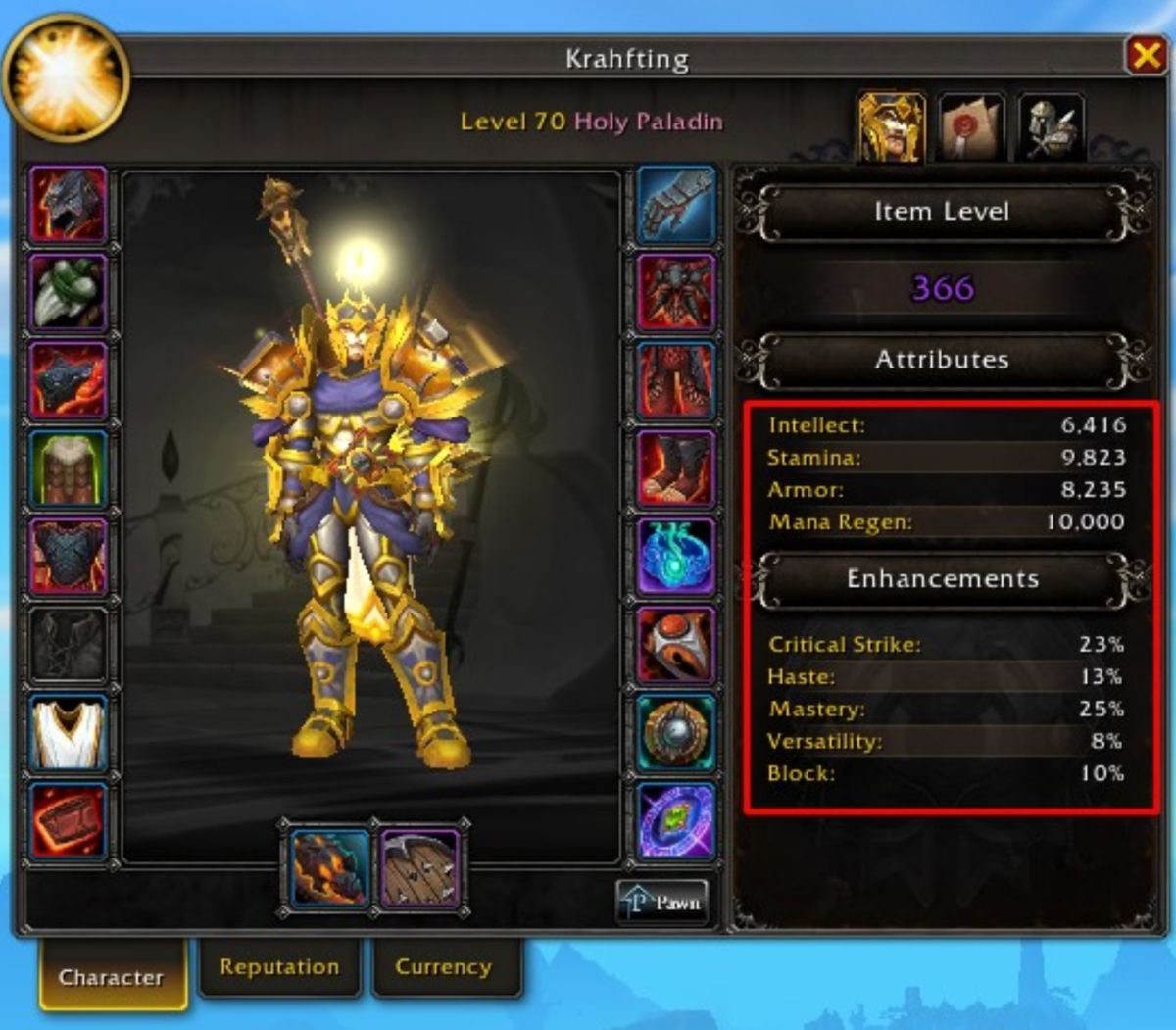 Once Season One begins, you will find the majority of your BiS (best in slot) PvE gear will come from the Vault of the Incarnates raid or high-level Mythic Plus. Before that, however, there are certain pieces you can target that can reliably be sourced from either Mythic Zero dungeons or early Renown levels.
Although your best stats will vary between builds, all of them heavily rely on Haste, and this list will prioritise acquiring as much of that as possible. Here are the following recommendations for your Best in Slot Pre Raid gear.
The true pre-BiS gear is a full set of level 384 epic gear from Blacksmithing. However, at the start of the expansion, these pieces will be very expensive and may be tricky to acquire, depending on your gold reserves.
This list shows you more easily obtainable gear, but if you want to splash out for the start of the season, those 384 items are the way to go.
If you can only choose one crafted item, then try to focus on acquiring your Sustaining Alchemist Stone, as it will be your best Trinket for quite a while.
If you are not able to craft one yourself as an Alchemist, you can place a work order to obtain one instead.
Stat Priority
Your primary stat is Intellect, which will increase the power of all of your abilities. Alongside this, there are four secondary stats available.
Critical Strike, which increases the chance for extra effective attacks and heals.
Haste, which increases your attack speed and decreases certain cooldowns.
Mastery, which increases your healing based on proximity to your target.
Versatility, which increases damage and healing as well as reduces damage taken.
As far as a general priority goes, your stats will change depending on what build you are running and what content you are taking part in. Try to adhere to the following orders:
For Melee and Maraad's Build:
Intellect > Haste > Mastery > Versatility > Critical Strike
For the Avenging Crusader Build:
Intellect > Critical Strike to 24 percent > Haste > Versatility = Critical Strike > Mastery
For Mythic Plus:
Intellect > Haste > Versatility > Critical Strike > Mastery
It is heavily recommended you learn to sim your character, using the special healer simming website called QuestionablyEpicLive. This will be able to give you a very precise breakdown of all your gear and stats and allow you to develop a better understanding of your performance.
The above priorities are quite flexible, as their relative values will fluctuate due to stat breakpoints. For all-around gameplay, you should be trying to take the highest item-level gear you can acquire, and it will provide you with the most Intellect, which is always your most important stat.
The exceptions to this rule are the Neck, Ring, and Trinket slots, where it is better to focus on acquiring your best stats, or the highest-performing healing/DPS Trinkets, sacrificing a certain amount of item level to gain these.
Gems, Enchants, And Consumables
For customising your gear, there is nearly always the best option. Following on from the previous section on stat priority, you will normally want to increase your Intellect, followed by whichever secondary is best for your build.
Buffing your gear correctly and using the proper consumables will provide a large bonus to your healing and can prove pivotal in saving your allies in a tight spot.
Your best gems are:
As with all consumables created via professions, you need to try and use the highest quality gems you can find, which will increase their power.
Your best enchants are:
Your list of consumables is as follows:
As with gems, try to procure the highest quality consumables you can, and remember to be well-supplied before taking on any end-game content.
NEXT: World of Warcraft: Dragonflight – Retribution Paladin Complete Guide