No Man's Sky launched in 2016 to a rough reception, to say the least, but over the years has made its way to the forefront of service titles. Now, the game continues to receive regular expansions and updates, and it seems like Hello Games isn't quite done yet.
RELATED: No Man's Sky: Crucial Tips For Beginners
However, with so many updates, it can be hard to remember each of them and what exactly was changed about the game. Here's every big update that we have received for No Man's Sky, and what it brought to the experience.
Updated on April 8, 2023: The second update of 2023 is the Interceptor update. With a whole new ship class, new cosmetics, and corruption brought to the universe of No Man's Sky, things were going to change in the galaxies.
Foundation Update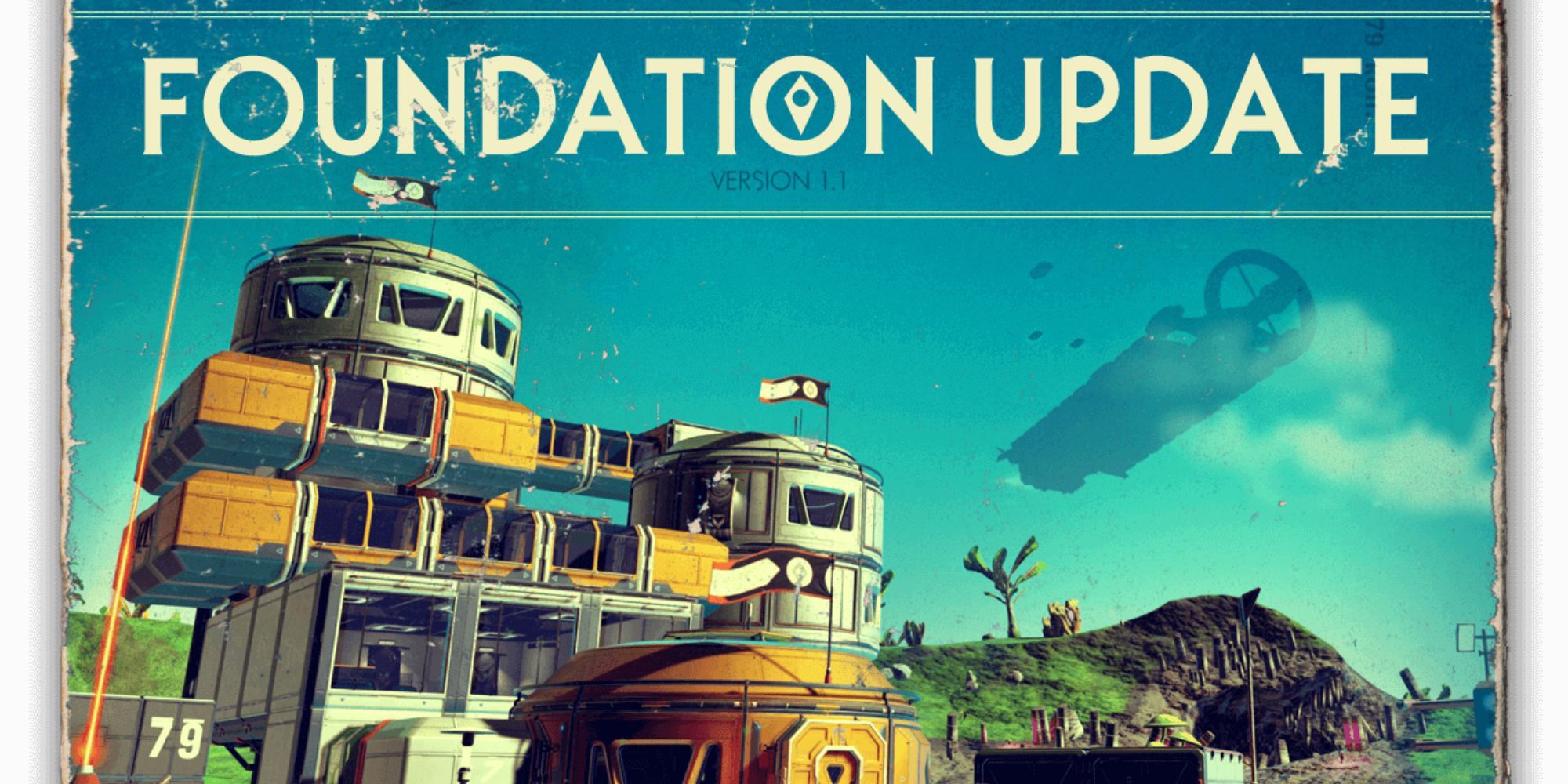 | | |
| --- | --- |
| Release Date | November 2016 |
| Biggest Additions | |
With the first real update to No Man's Sky, it received the inclusion of base-building elements. These were simple and could only be done at sites where an already established base was, but at the time was a big improvement over the lack of habitation.
The update also introduced a lot of general changes and tweaks to the overall game, making the experience that much better than its initial state.
Back To Top →
Pathfinder Update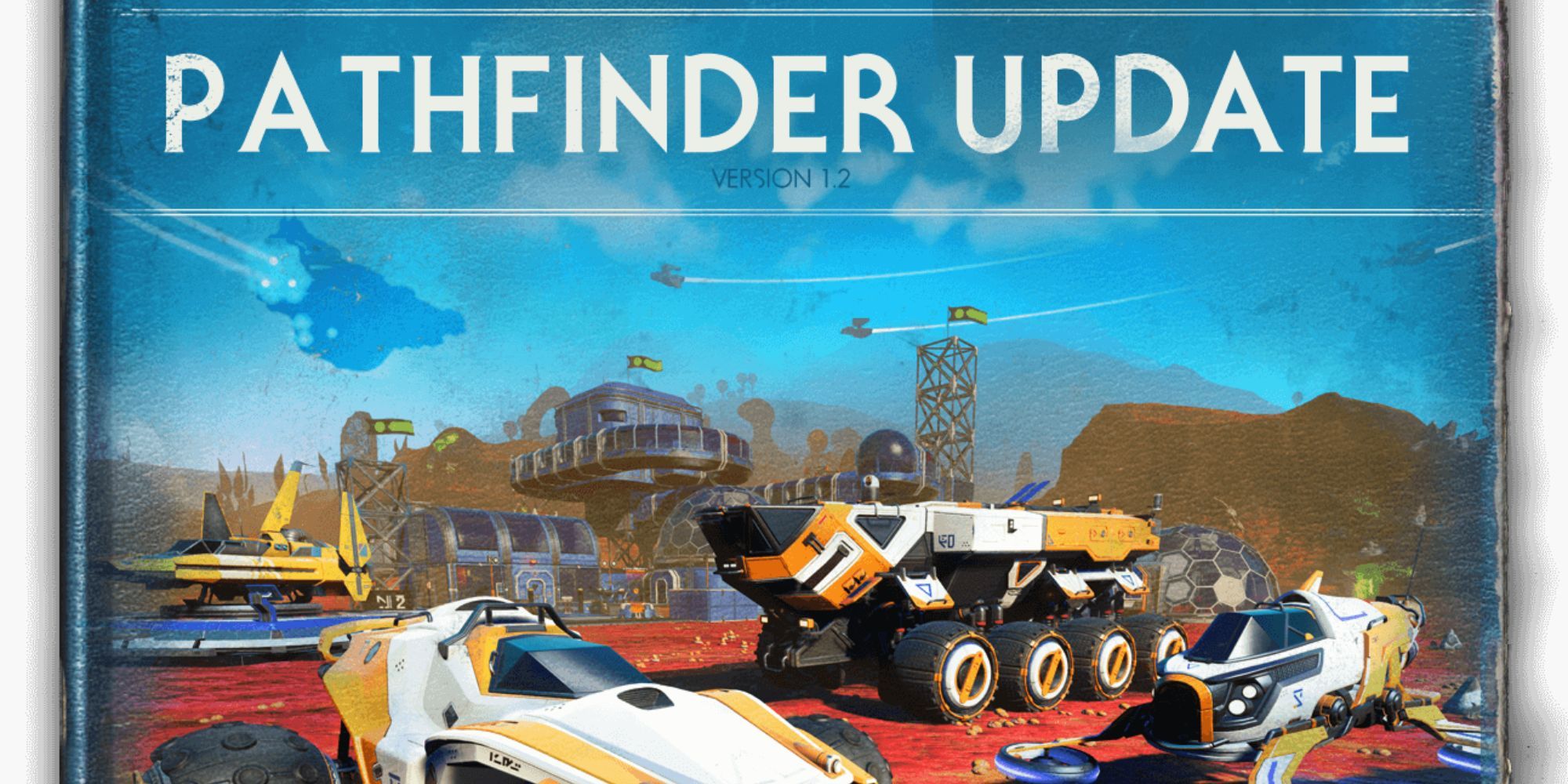 Release Date

March 2017

Biggest Additions

Vehicles/Exocraft
PS4 Pro Support
Permadeath Mode
With the Pathfinder update, we saw the introduction of vehicles into the game. As part of the base questline, you could learn how to build different vehicles and use them to traverse a planet's surface.
The update also included features such as base sharing, support for the PlayStation 4 Pro, permadeath mode for saves, and ship/weapon specializations, alongside a whole host of smaller improvements.
Back To Top →
Atlas Rises Update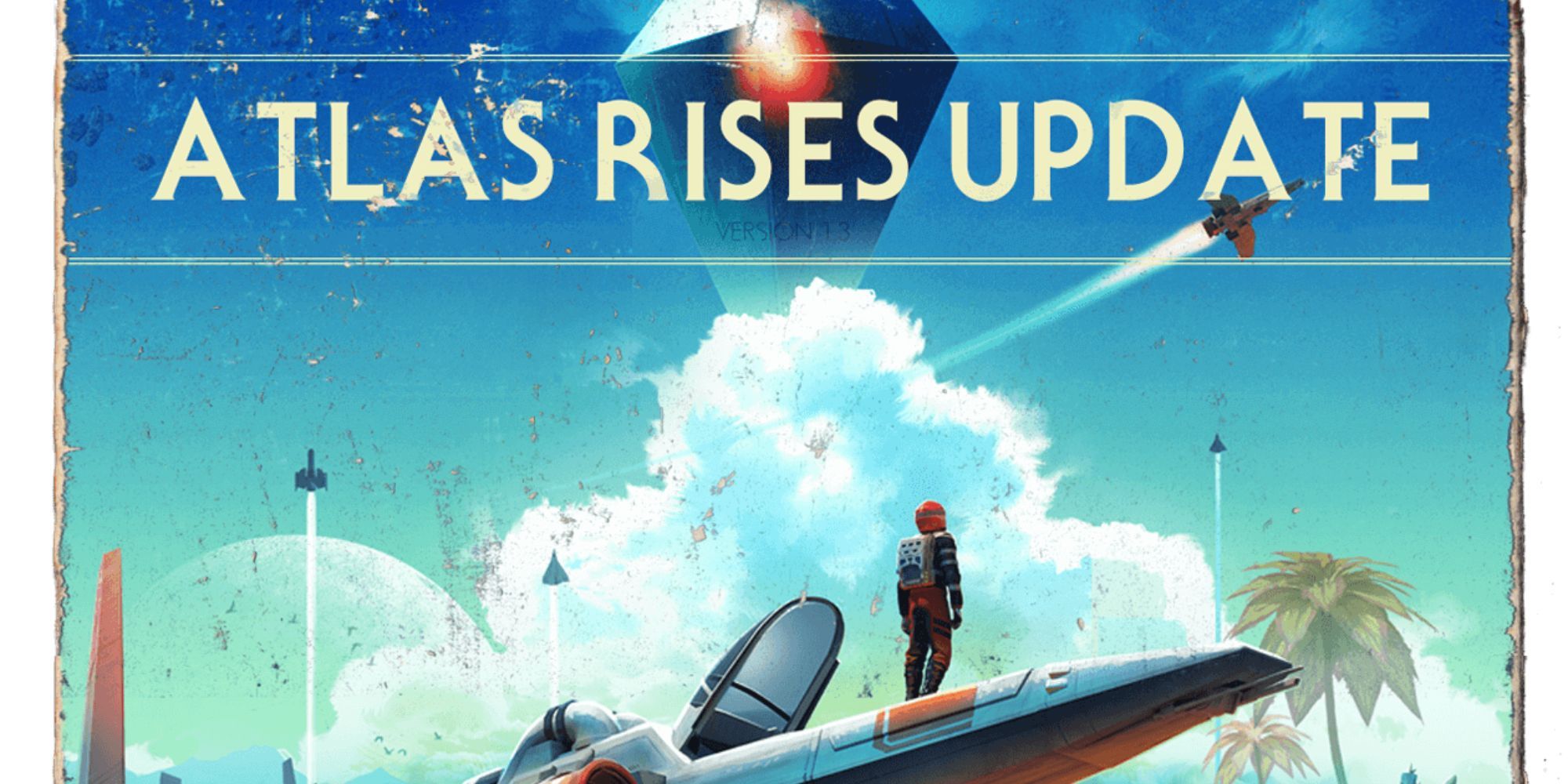 Release Date

August 2017

Biggest Additions

Overhauled Storyline
Portals
Procedural Missions
Atlas Rises was a significant update at the one-year anniversary of No Man's Sky, and brought a new, overhauled central storyline to the game. With this, players could now follow a more structured storyline and explore more lore than ever before.
On top of this, we also saw the inclusion of portals, procedural missions to undertake, improvements to the trade systems in the galaxies, changing economies within star systems, and many more additions.
Back To Top →
NEXT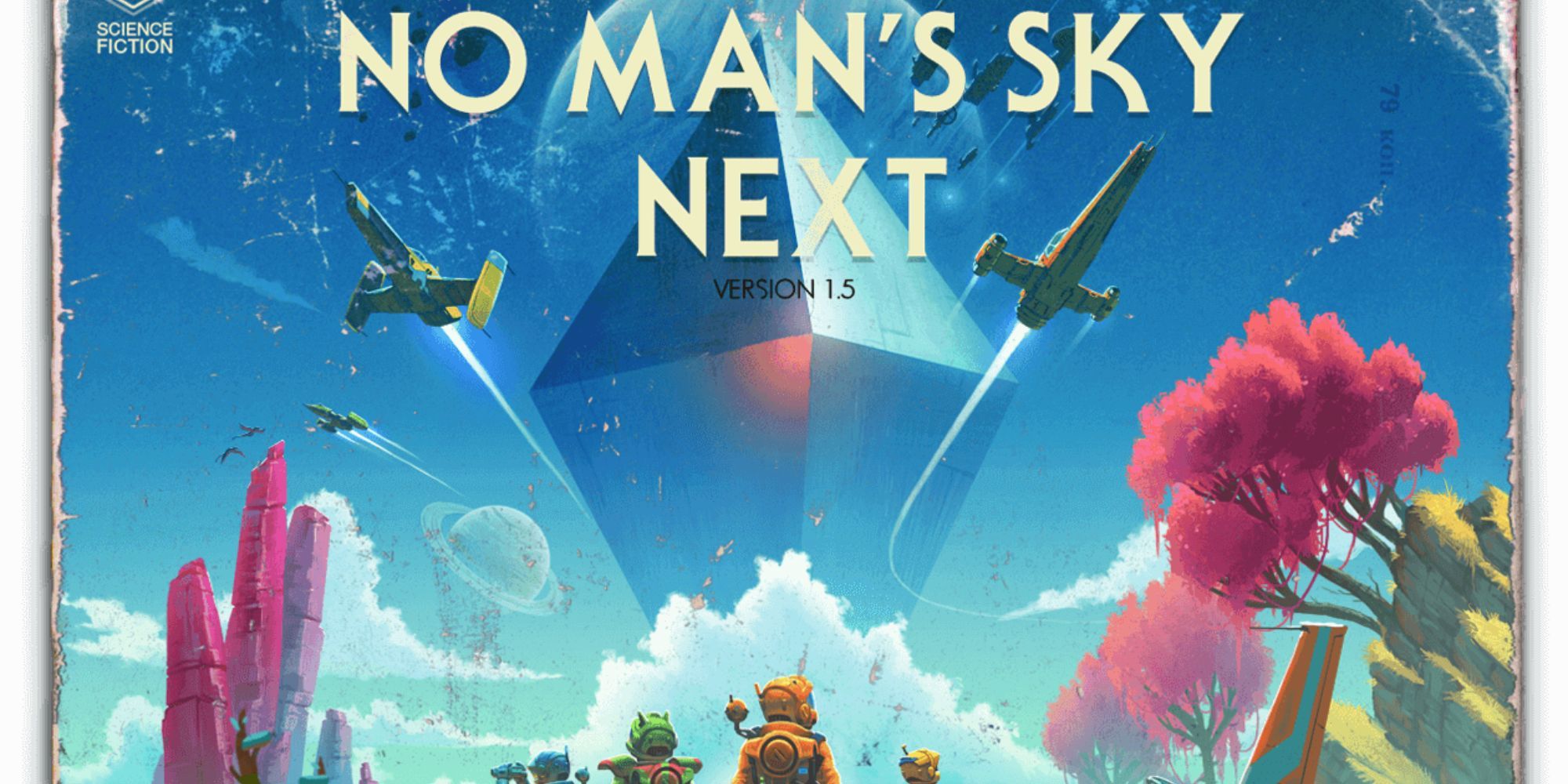 Release Date

July 2018

Biggest Additions

Multiplayer
Third-Person Camera
Character Creation
Freighters
After a long wait, No Man's Sky NEXT was a massive update to the game. NEXT introduced full multiplayer – the most demanded feature at the time – as well as removing many of the limitations for base building.
It also added the command of freighters, complete visual overhauls, a third-person camera you could now switch to when on foot or flying a starship, and character creation – a game-changing update, in the most literal sense.
Back To Top →
The Abyss Update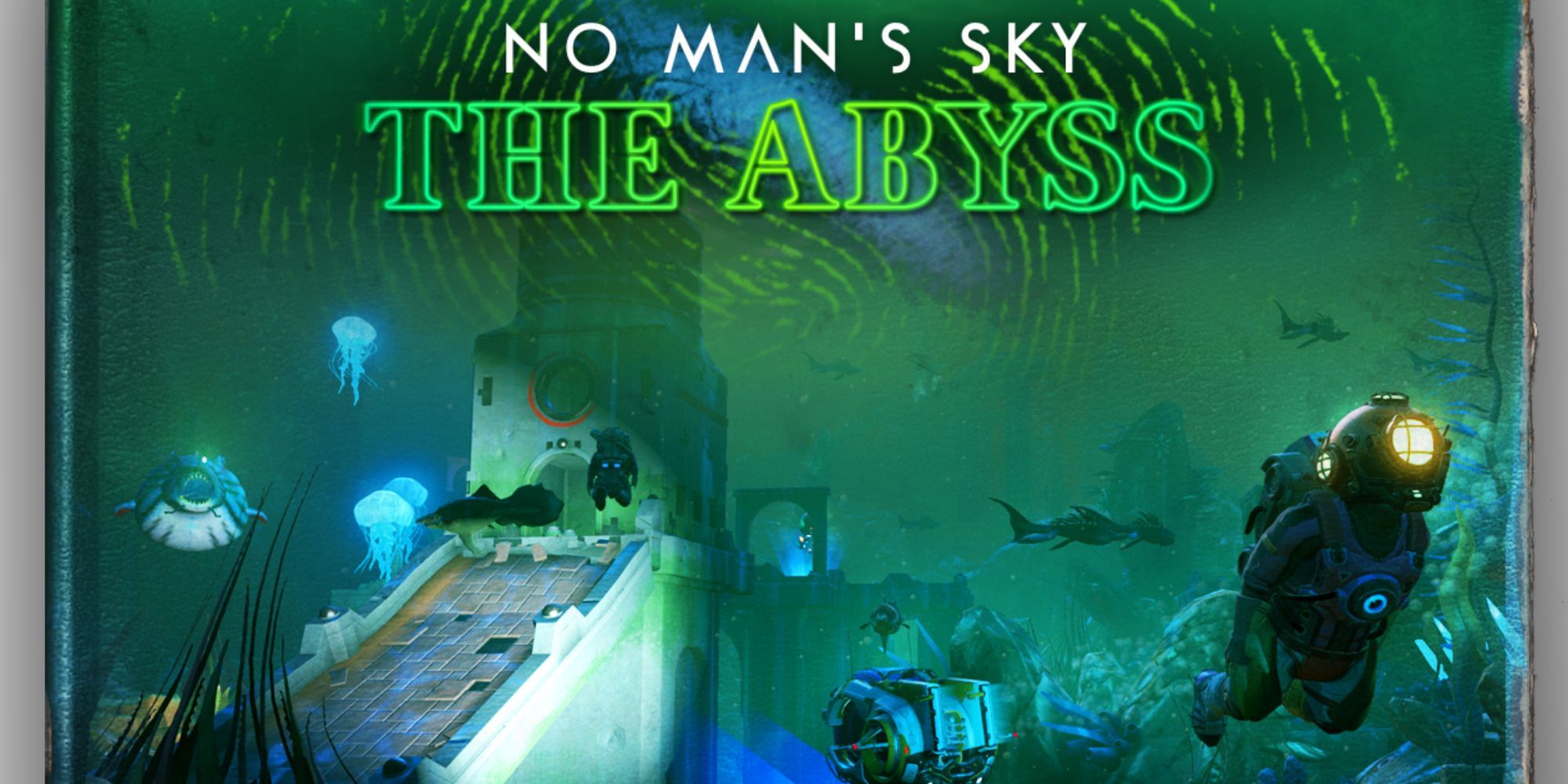 Release Date

October 2018

Biggest Additions

Ocean Overhaul
Underwater Bases
Submarine
A smaller, spookier update in time for Halloween, The Abyss update overhauled the oceans and underwater environments of No Man's Sky, as well as improvements to the variation in flora and fauna and the visuals in general – and of course, some scary underwater entities.
RELATED: The Best Underwater Games, Ranked
The update also introduced underwater base-building modules and the submarine, alongside a questline that would take you through some of the oceanic planets in the game.
Back To Top →
Visions Update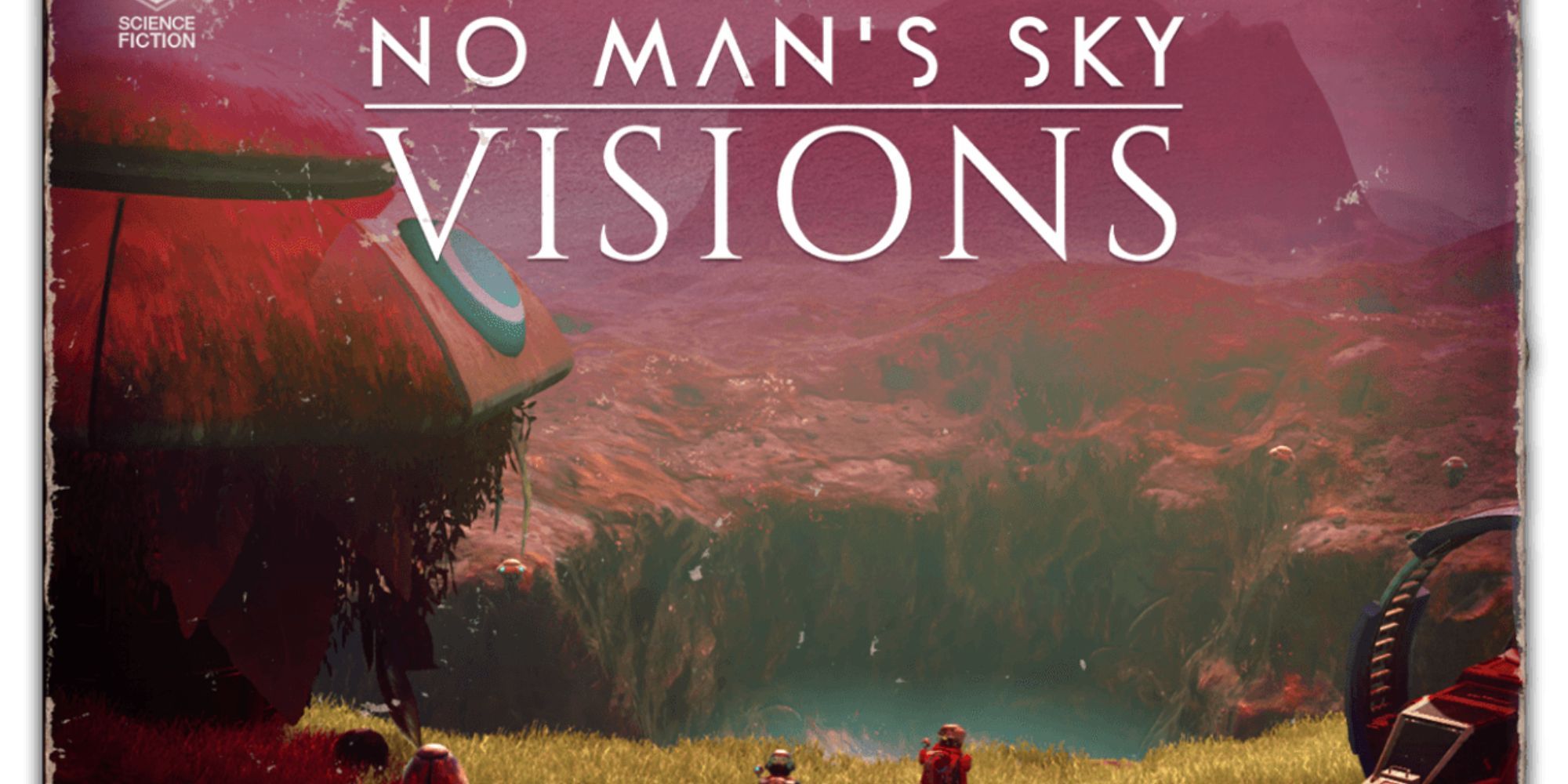 Release Date

November 2018

Biggest Additions

Planetary Variation
Shared Community Mission Progress
The Visions update focused on a lot of the planetary variation and interest you would have in exploring. There came new biomes, creature types, and effects such as rainbows and exotic trophies, among many more tweaks.
It also brought salvageable scrap and bones – certain planets would have areas you could dig to uncover ancient fossils and scrap that could be sold for a high price. We also got shared community mission progress, to make unlocking rewards easier and more community-focused.
Back To Top →
Beyond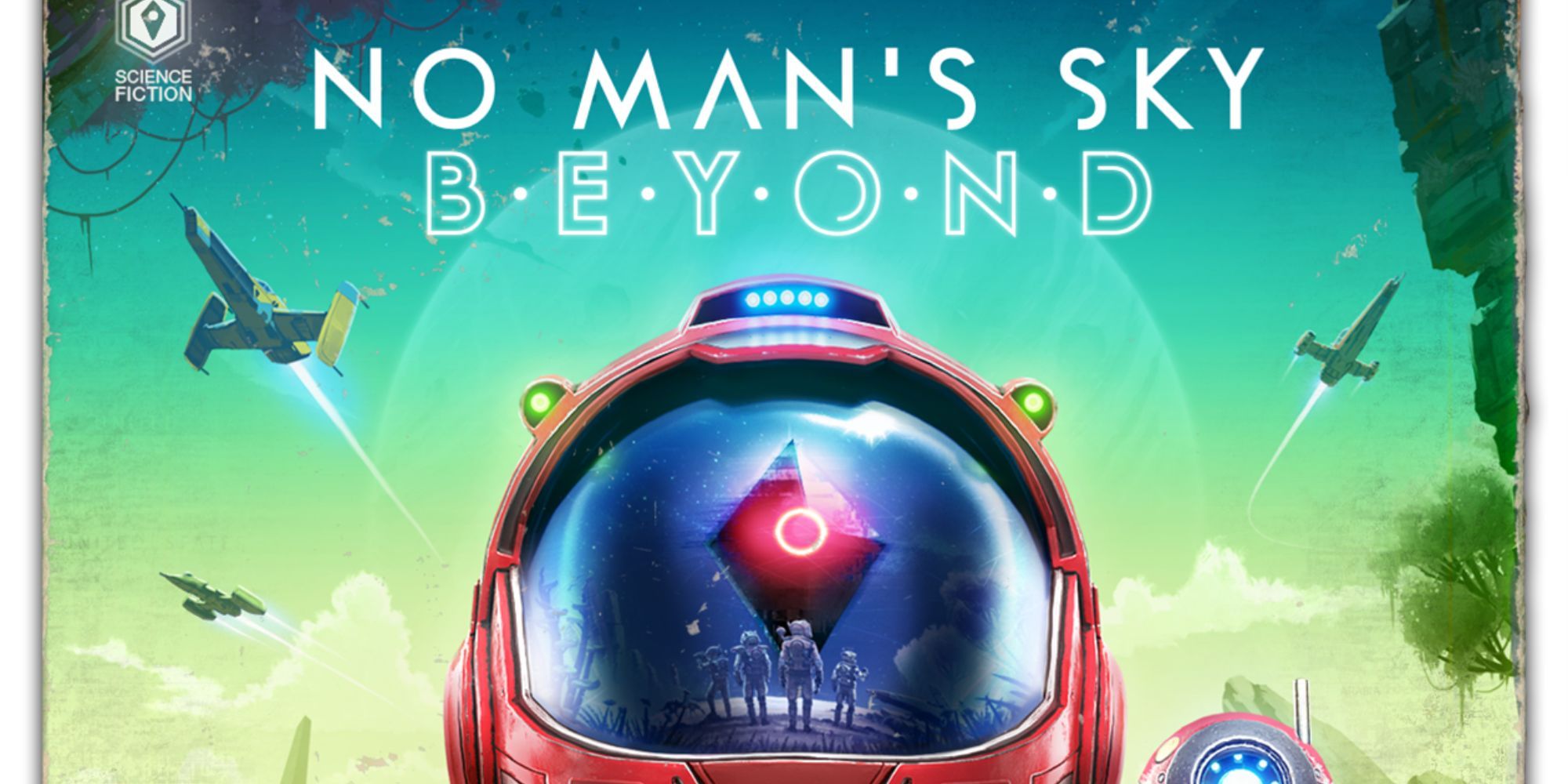 Release Date

August 2019

Biggest Additions

Virtual Reality Support
Space Anomaly Nexus
Another big update for the game brought along a fair few additions, with a main new feature being virtual reality support. On both PC and PSVR, No Man's Sky can be played in its entirety, offering a unique VR experience unlike any other.
Alongside this, Beyond brought an overhaul to the base building systems and NPCs, the Space Anomaly Nexus as a hub, and more overhauls for general gameplay and Discovery functions. This was yet another big turning point for the game.
Back To Top →
Synthesis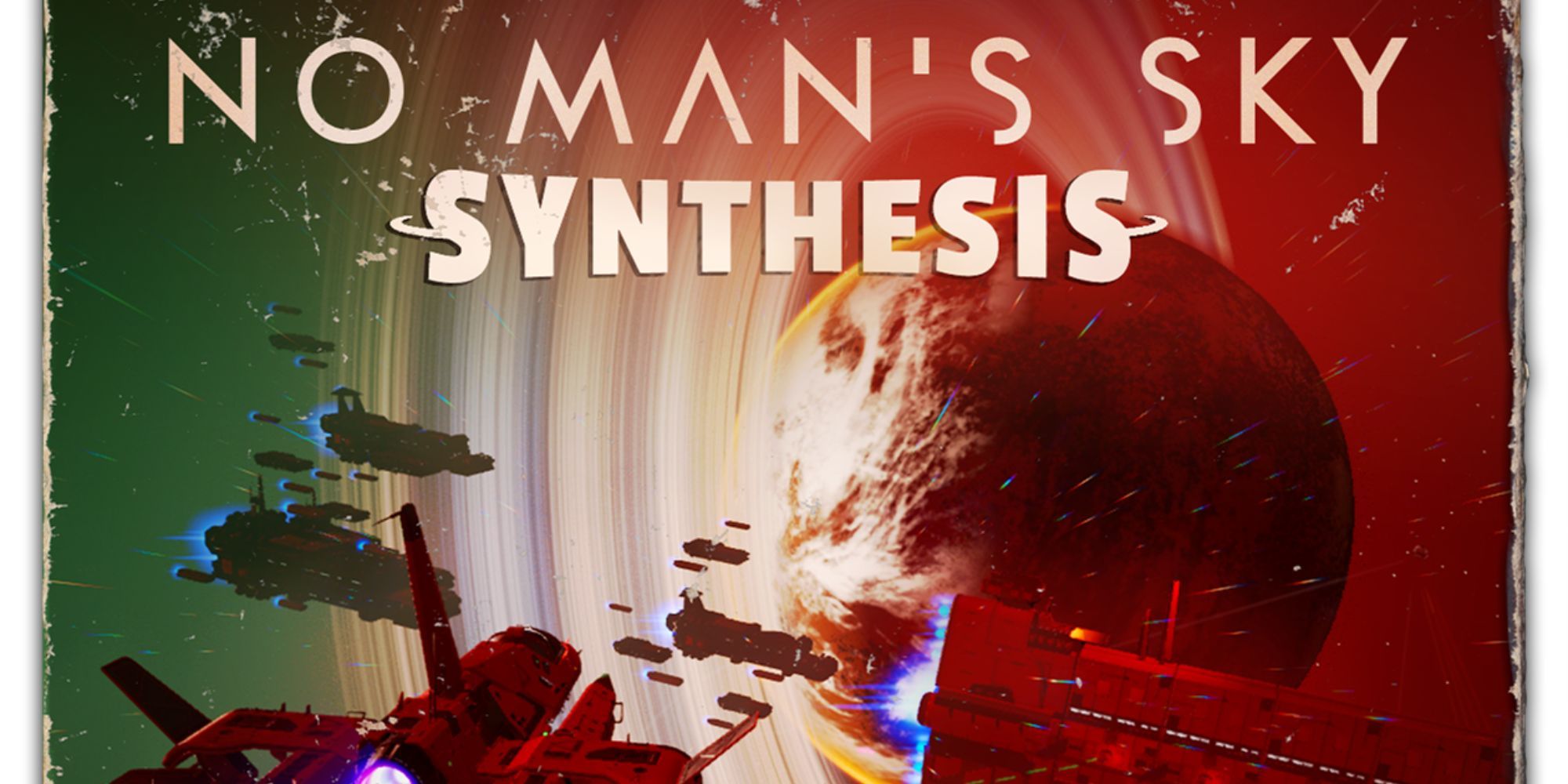 Release Date

November 2019

Biggest Additions

Upgrade/Salvage Ships
Tweaks And Overhauls
The Synthesis update improved many aspects of the game, making for a list of general overhauls and tweaks to how things work in the game, alongside a few extra additions, such as the ability to upgrade and salvage starships.
Synthesis also overhauled the terrain manipulation system, added the ability to save custom presets in the outfit modifier, an improved star map in your ship cockpit, and many other improvements.
Back To Top →
Living Ship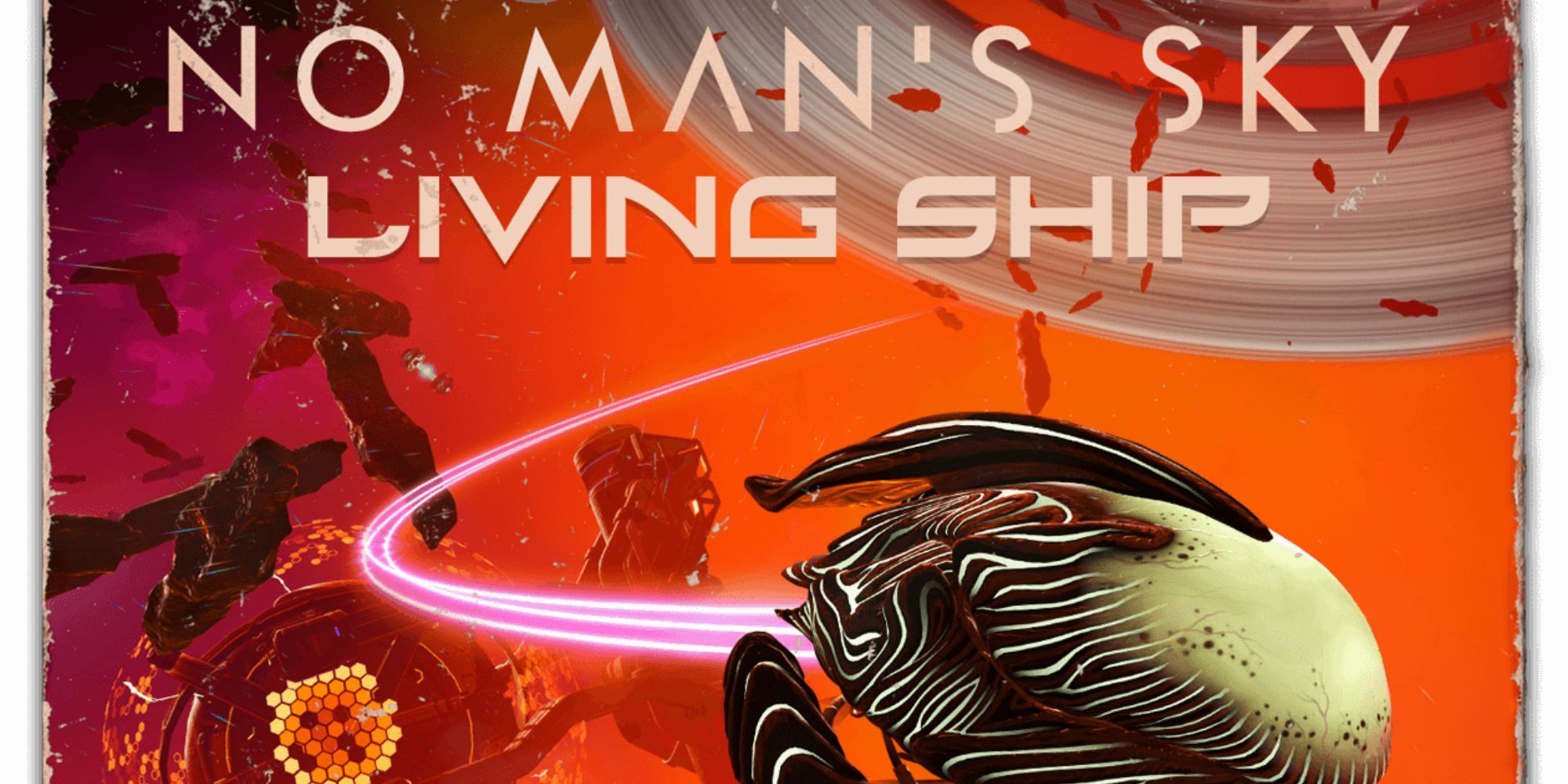 Release Date

February 2020

Biggest Additions

Living Ship Questline
Space Encounters
With this update, the main addition was the Living Ship itself. To get your hands on this living starship, you would have to follow a new questline in order to hatch a mysterious egg, and then fly around in your gross new ship with organic technology on the inside. Don't think about it too much.
On top of this, the Living Ship update also added space encounters, where you could come across deep space objects and strange lifeforms that could potentially communicate or offer even more lore. You could also now encounter other NPCs in space who might need help or want to trade.
Back To Top →
Exo Mech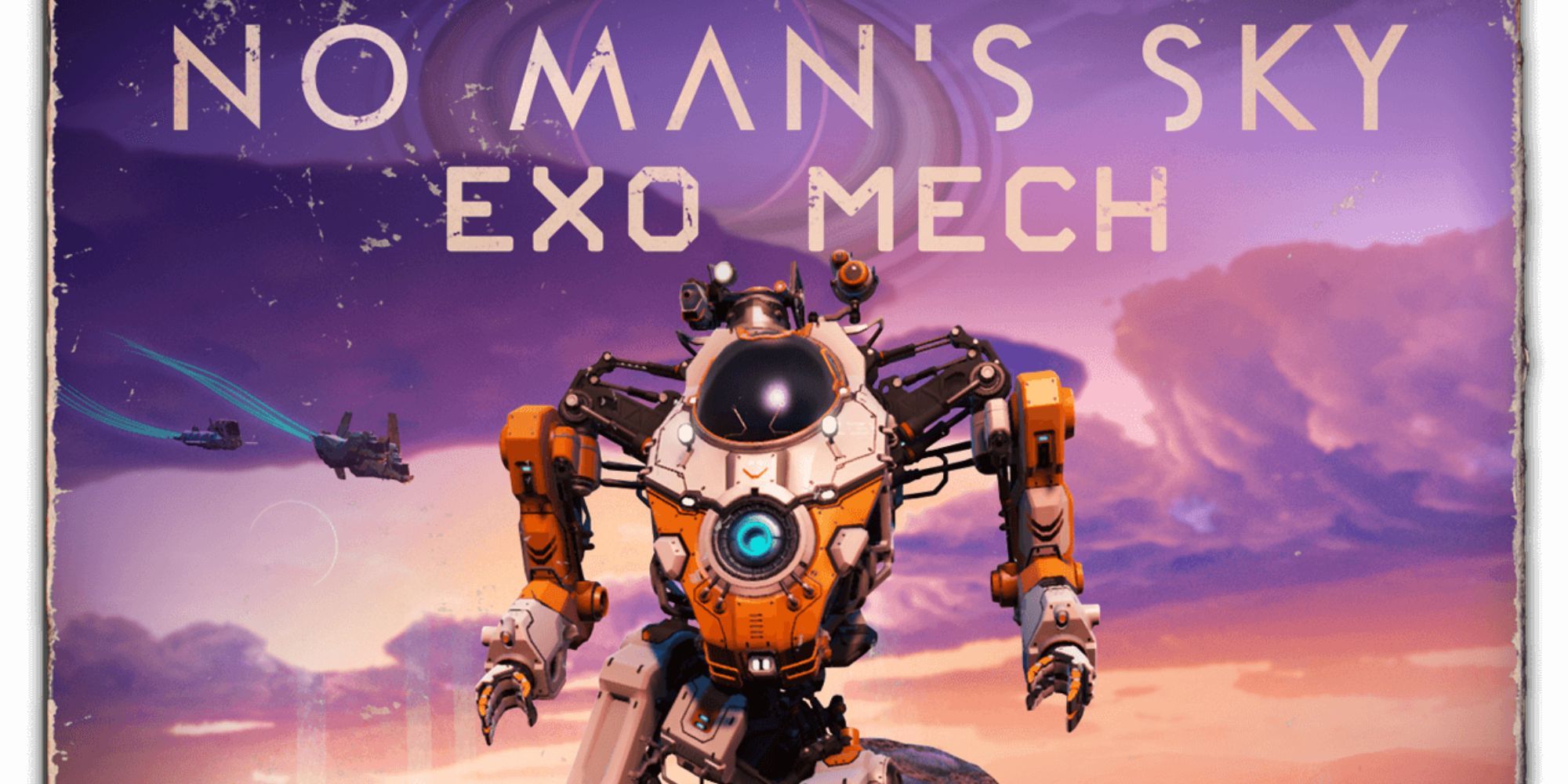 | | |
| --- | --- |
| Release Date | April 2020 |
| Biggest Additions | |
With the Exo Mech update came The Minotaur – a large new mech that you could craft, summon, and pilot in order to traverse or shelter yourself from hazards. There were also general improvements and additions to existing Exocraft, and an Orbital Exocraft Materialiser you could build on your freighter, which would allow you to summon your Exocraft anywhere as long your freighter was present in the system.
RELATED: The Best Mech Games, Ranked
Aside from this, there were yet more quality-of-life improvements, including resolution scaling, powerline management for your base, and the option for console players to disable the complexity limit of bases.
Back To Top →
Crossplay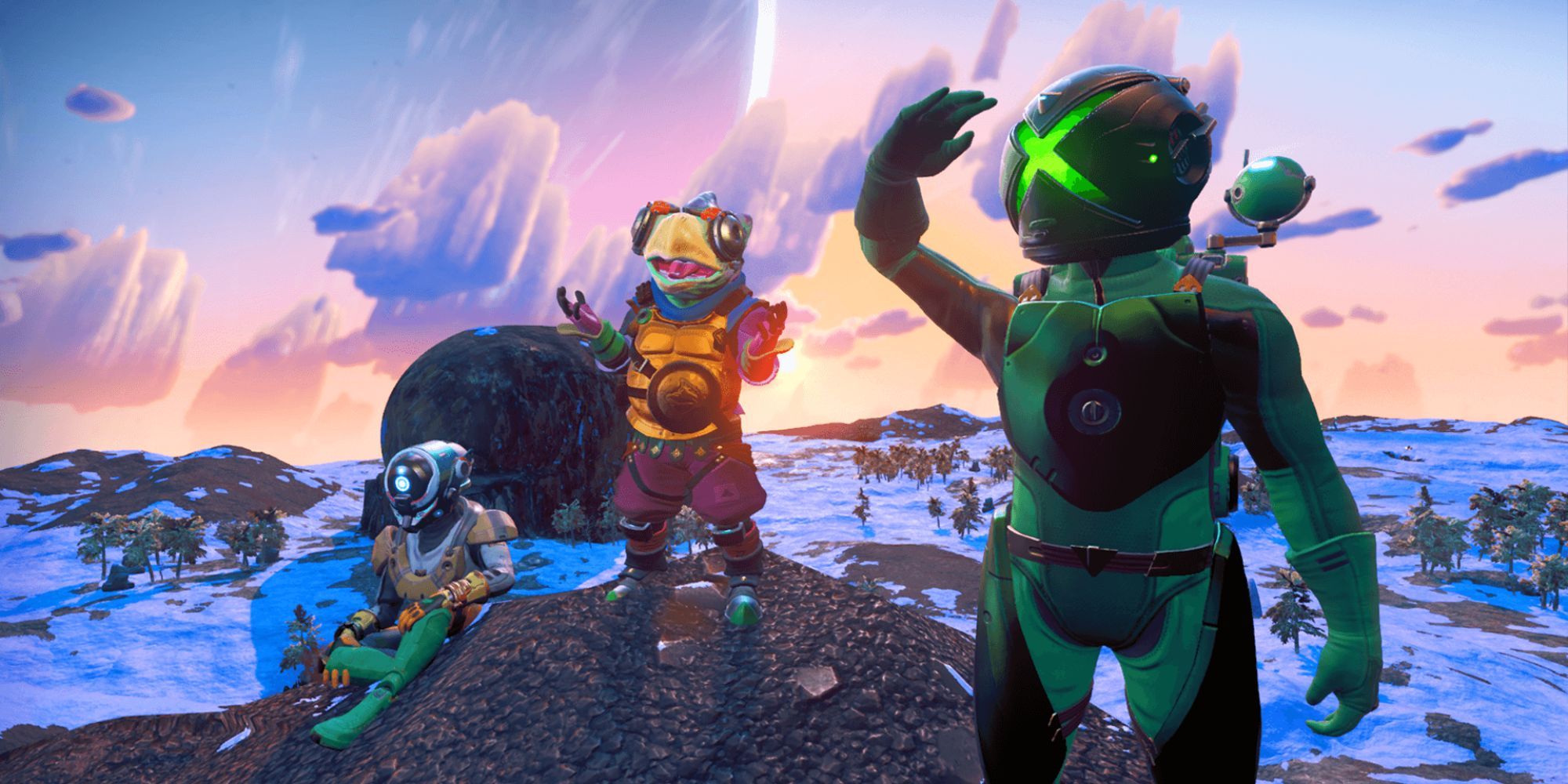 Release Date

June 2020

Biggest Additions

Crossplay Support
Xbox Release
Friends System
With the Crossplay update came, of course, Crossplay support for No Man's Sky. Following its release on Xbox One and a launch on Xbox Game Pass, players from Xbox, PlayStation, and PC could all play together in a more seamless multiplayer.
Several tweaks and improvements came to the game with this update too, including new chat options, a No Man's Sky Friends system for easier parties, and overall quality of life improvements for both multiplayer and VR.
Back To Top →
Desolation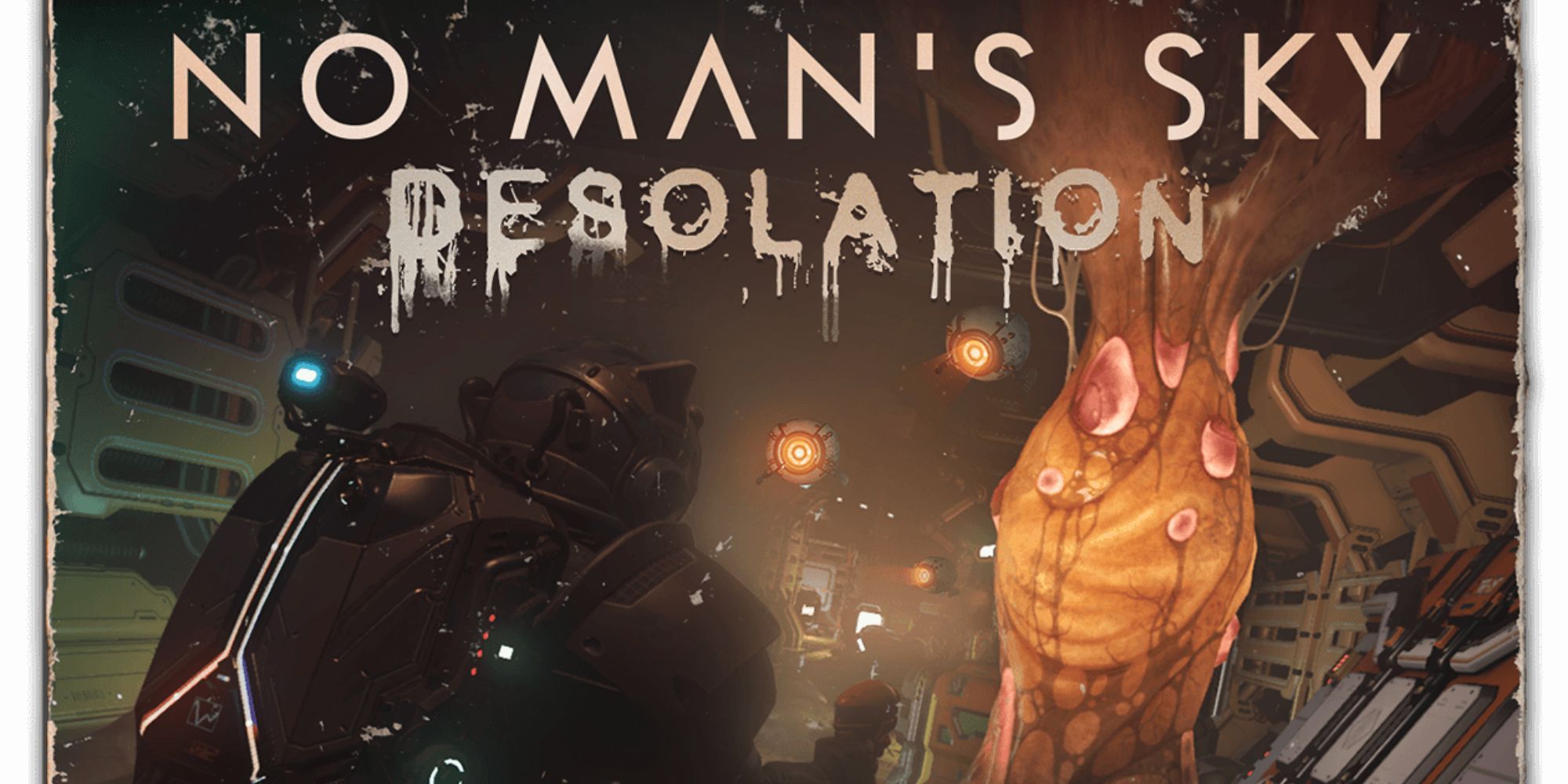 Release Date

July 2020

Biggest Additions

Desolate Freighters
Freighter Customization
This creepy and horror-packed update brought the introduction of Desolate Freighters – long abandoned and forgotten vessels, now home to mysteries and nightmares. Between security systems and dangerous creatures, exploring these wrecks was new and exciting, and added some eerieness to deep space.
Aside from the wrecks, the Desolation update also brought improvements to the lighting of the game, with bloom, lens flare, and new lighting effects. You could now also upgrade and customize the appearance of your own freighter, and play around with the faster-paced tweaks to the combat.
Back To Top →
Origins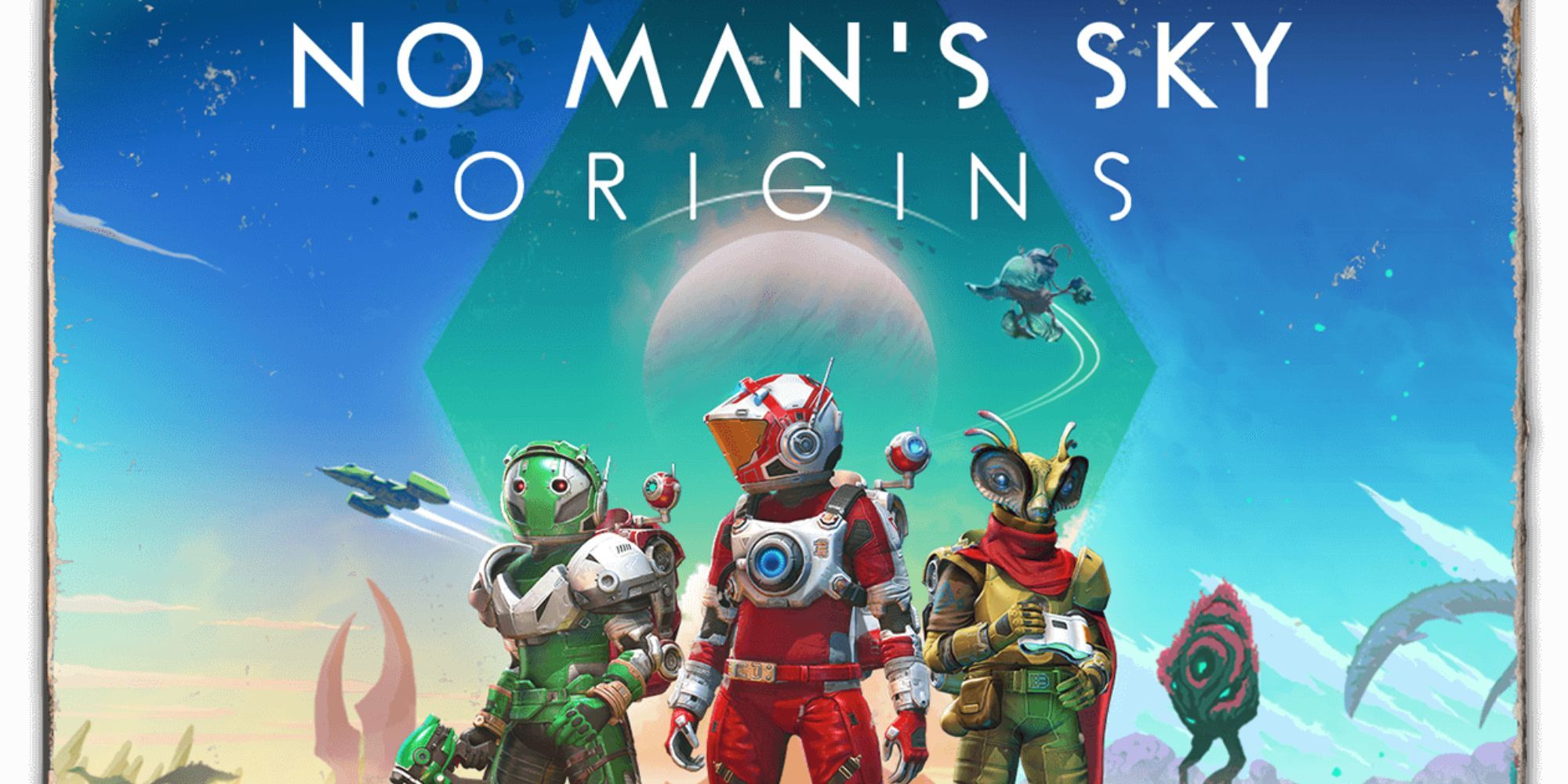 Release Date

September 2020

Biggest Additions

Overhauls To Game/Systems/UI
New Hazards And Biomes
Giant Sandworms
The Origins update for No Man's Sky made some dramatic changes to the overall game. With it came new planet types, varied and unique terrain and landscapes, more weather/planetary conditions, colossal buildings, and so much more. Along with this were improvements and tweaks to just about everything else you could think of, from the UI to gravitational anomalies to general visual fidelity.
With new hazards such as volcanoes, tornadoes, and meteors, and the introduction of new types of life, came one long-awaited addition – the giant sandworms which would now leap from the earth and terrify you every time.
Back To Top →
Halloween 2020 Update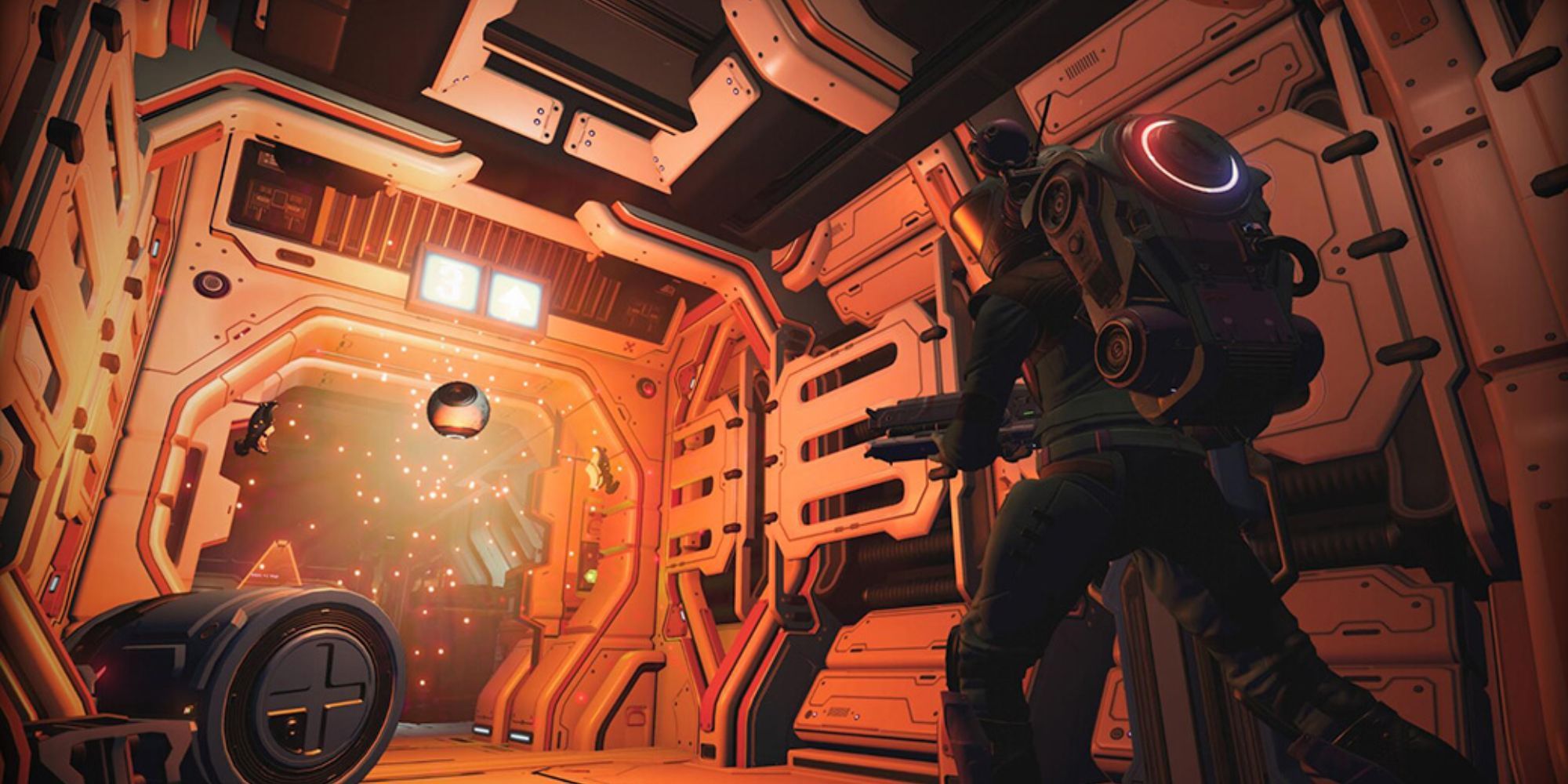 Release Date

October 2020

Biggest Additions

Tainted Metal Currency
Exclusive New Rewards
The Halloween update aimed to shine some more light on the derelict freighters introduced in the Desolation update, so with this came the strange material known as Tainted Metal.
RELATED: Games That Have Annual Halloween Events
This new scrap could be used to purchase exclusive rewards from scrap dealers aboard the many space stations of the galaxy, such as decals, decorations, and the Horrific Flesh-Helmet. Lovely.
Back To Top →
Next Generation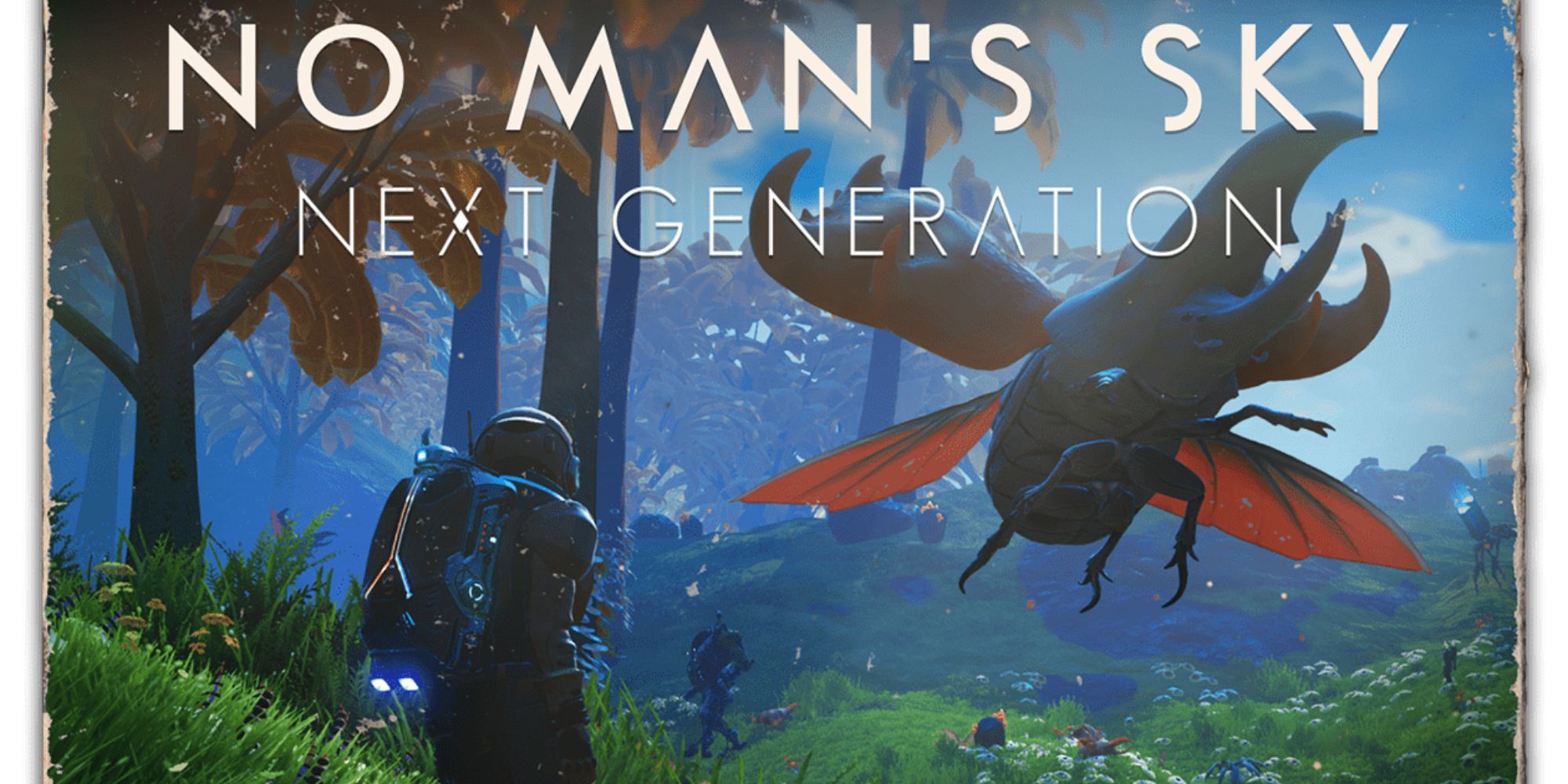 Release Date

October 2020

Biggest Additions

PS5/Xbox Series X Support
32 Player Online Sessions
Save Transfers
With the release of the PlayStation 5 and Xbox Series X, the No Man's Sky's Next Generation update prepared the game for these new consoles, as well as all improvements on PC too. There were several visual improvements once again, along with reaching a solid 4K/60fps on these consoles. The PS5 version also made use of the features of the DualSense controller.
Alongside the visuals and performance came the ability to have 32 players in multiplayer on the next-gen consoles, being able to transfer saves, even bigger and more intricate base building, and drastically increased load times.
Back To Top →
Companions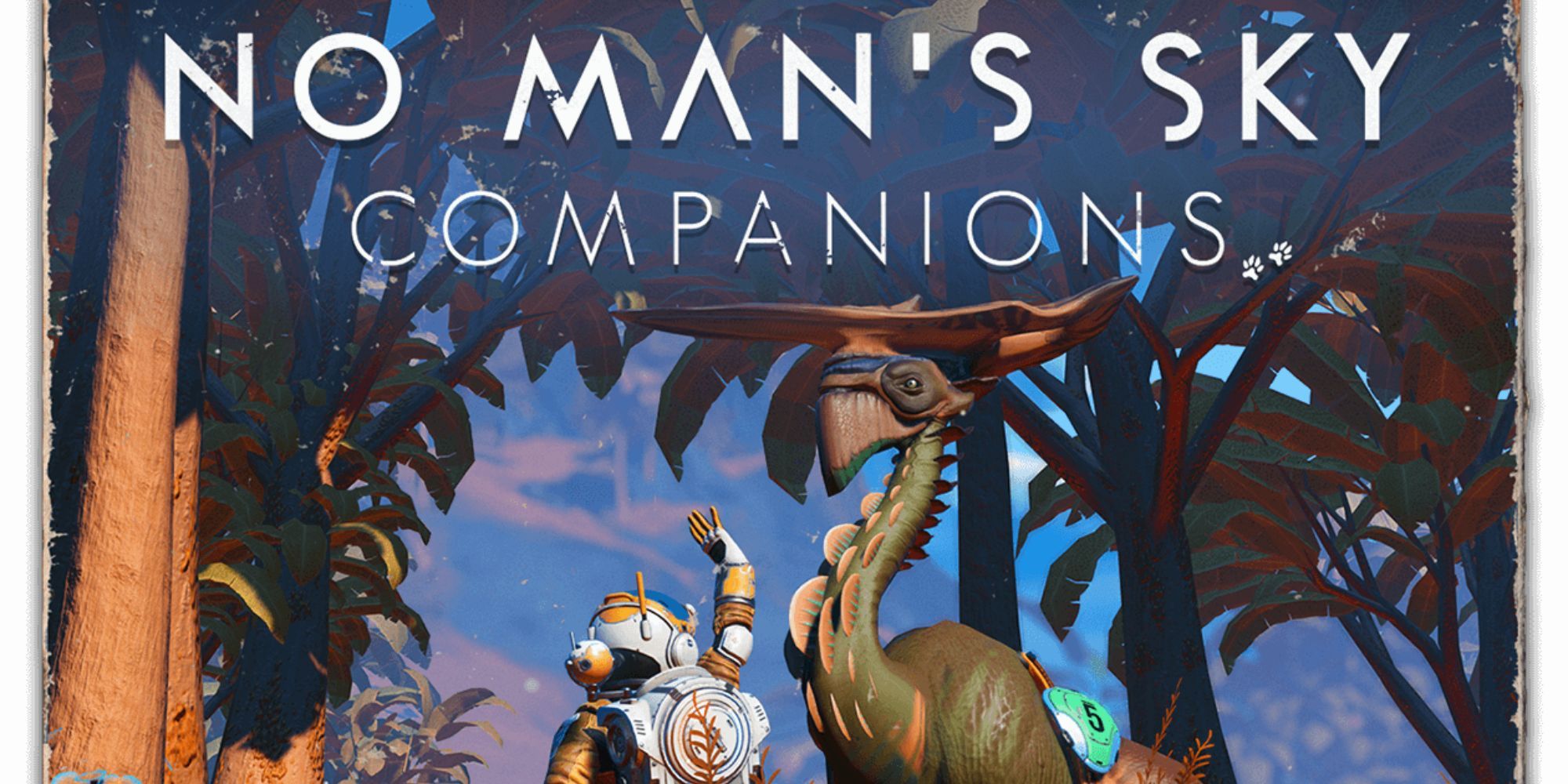 Release Date

February 2021

Biggest Additions

Taming And Keeping Pets
Creature Breeding
The Companions update came with the ability to tame and keep wild creatures you come across as pets. The companions can be customized, raised, and bred. You can even genetically modify the eggs to create new and interesting creatures with various traits.
These would appear in a new companion menu, and you can summon them to traverse alongside you, use them as mounts, or show them off in the Nexus as other players show off their own favorite creatures. A wholesome addition to the game.
Back To Top →
Expeditions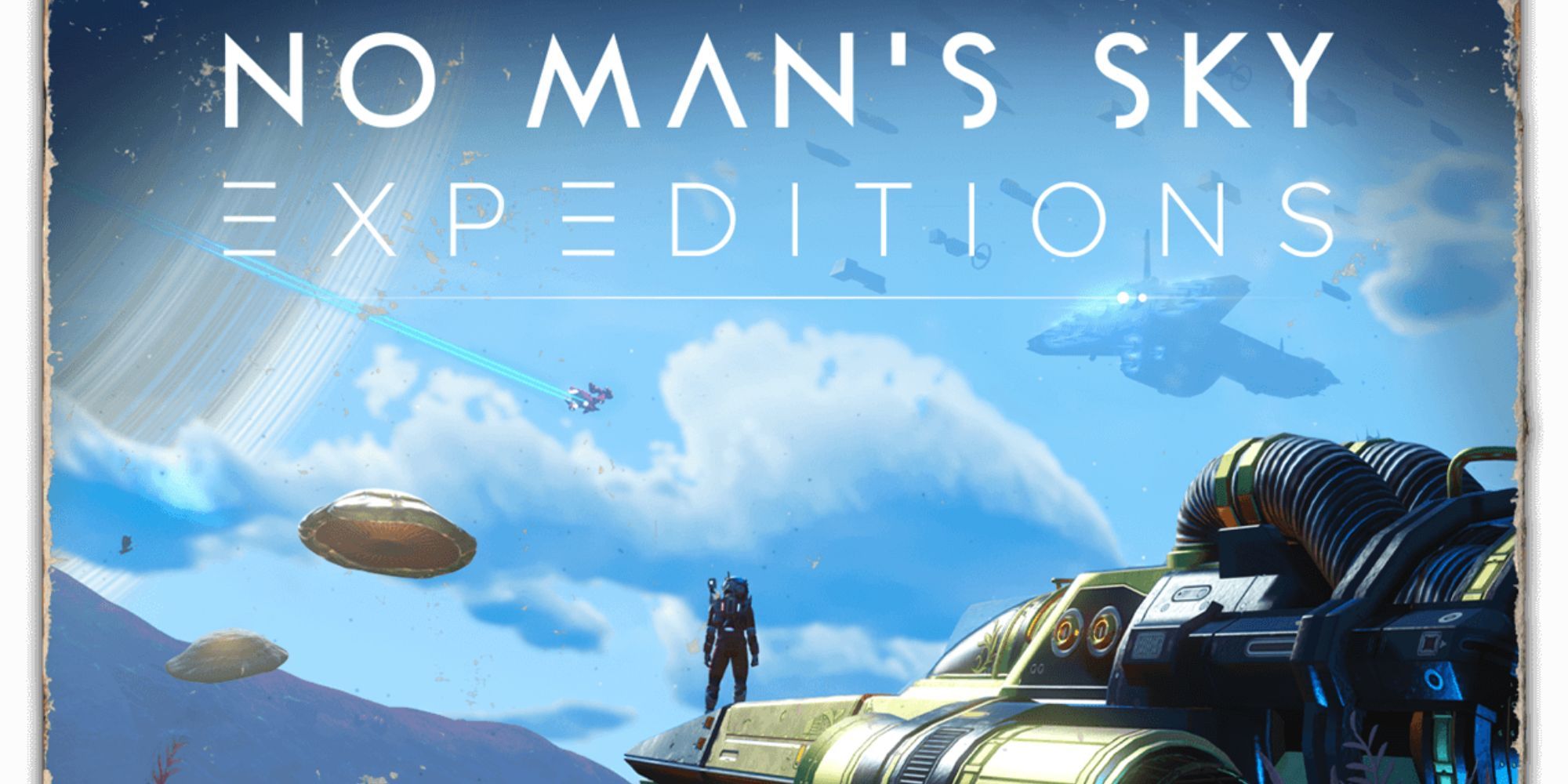 | | |
| --- | --- |
| Release Date | March 2021 |
| Biggest Additions | The Beginning Of Expedition Events |
This update introduced the first of many Expeditions – timed events that had you follow a path through various missions in order to reach milestones. Completing the Expedition would give you exclusive rewards and items, including the Golden Vector Starship. Once the Expeditions are finished, you cannot return to them, and we have since seen a few of these play out alongside updates, all with different rewards to acquire.
This update also tweaked a few things about the game in general, such as an overhaul of Starship appearances, changes and rebalancing for Space Station missions, and an improved UI.
Back To Top →
Prisms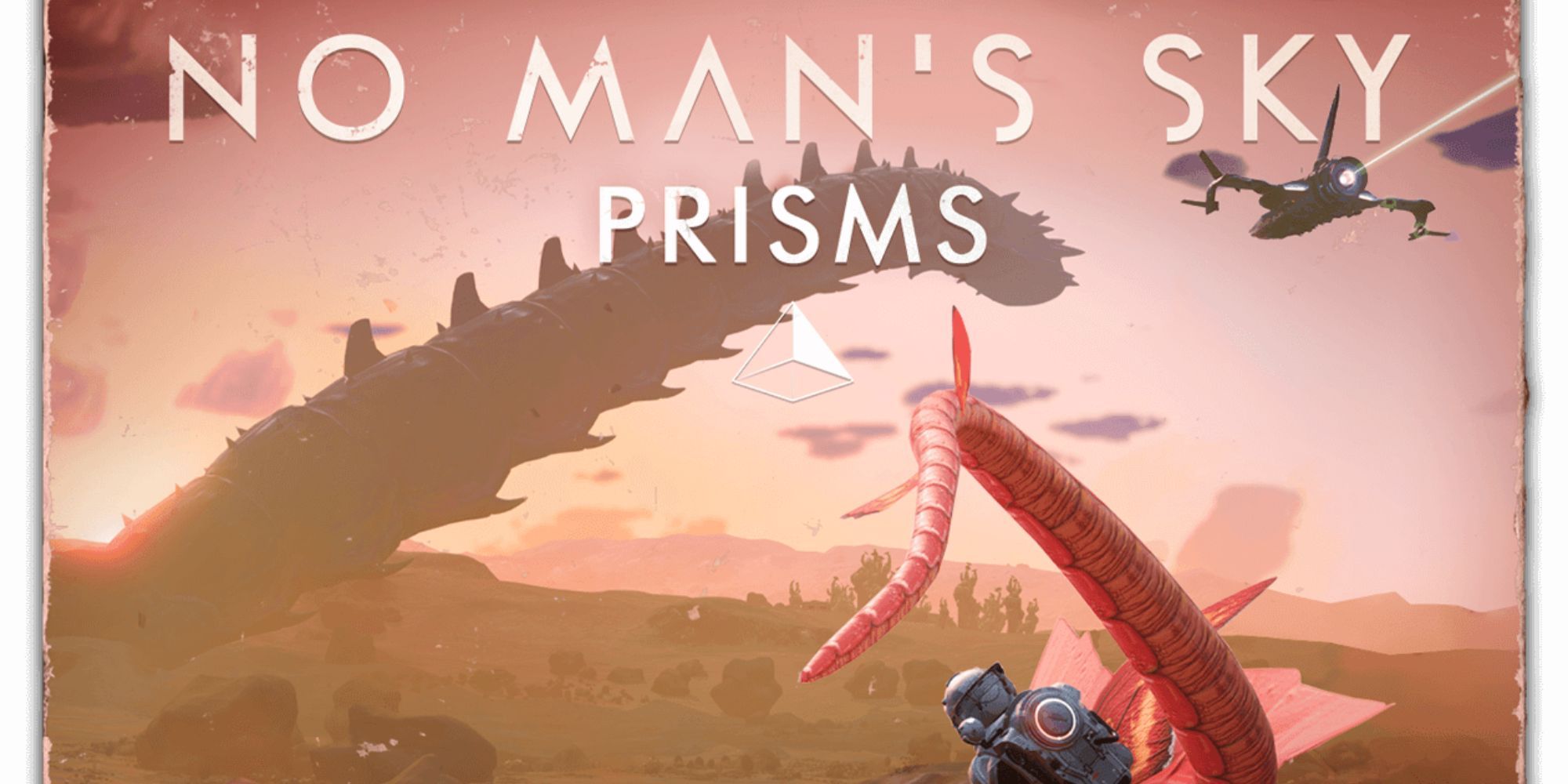 Release Date

June 2021

Biggest Additions

Visual Overhauls
Flying Companions
The Prisms update brought with it a plethora of new and improved visuals, and extensive changes to the lighting in the game. With much more detail, volumetric lighting, refractions, screen-space reflections, and so much more, the game looked better than ever. The drastic increase of stars in the sky was a notable change to the visuals of the game.
RELATED: The Most Graphically Demanding PS5 Games
Several other tweaks were present too, such as an overhaul to Space Station cores, more exotic companions (including flying pets), DLSS support, and several quality-of-life improvements overall.
Back To Top →
Frontiers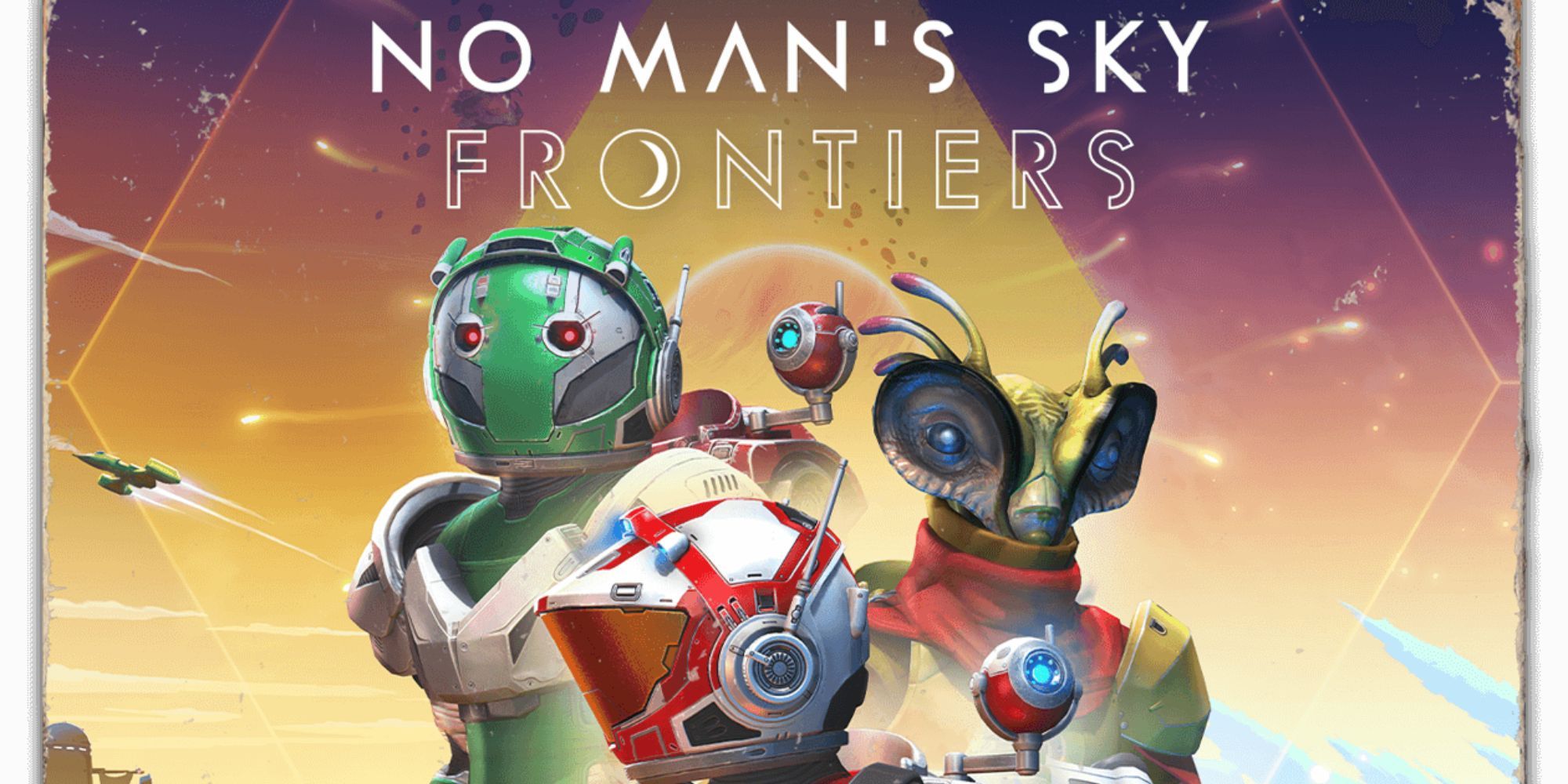 Release Date

September 2021

Biggest Additions

Planet Settlement Management
Base Building Overhaul
Frontiers introduced planetary settlements to the game, which you could come across and explore. However, after helping a settlement out, you could become its overseer. This allows you to solve problems, decide on functions, expand the buildings, and defend the settlement from sentinel attacks.
On top of this, the base building got an overhaul. With hundreds of new building parts added, the menu for construction changed to a grid in order to make selecting parts much quicker and easier. There were also more save slots, improved multi-tool and destruction effects, and yet more quality-of-life improvements to the game.
Back To Top →
Sentinel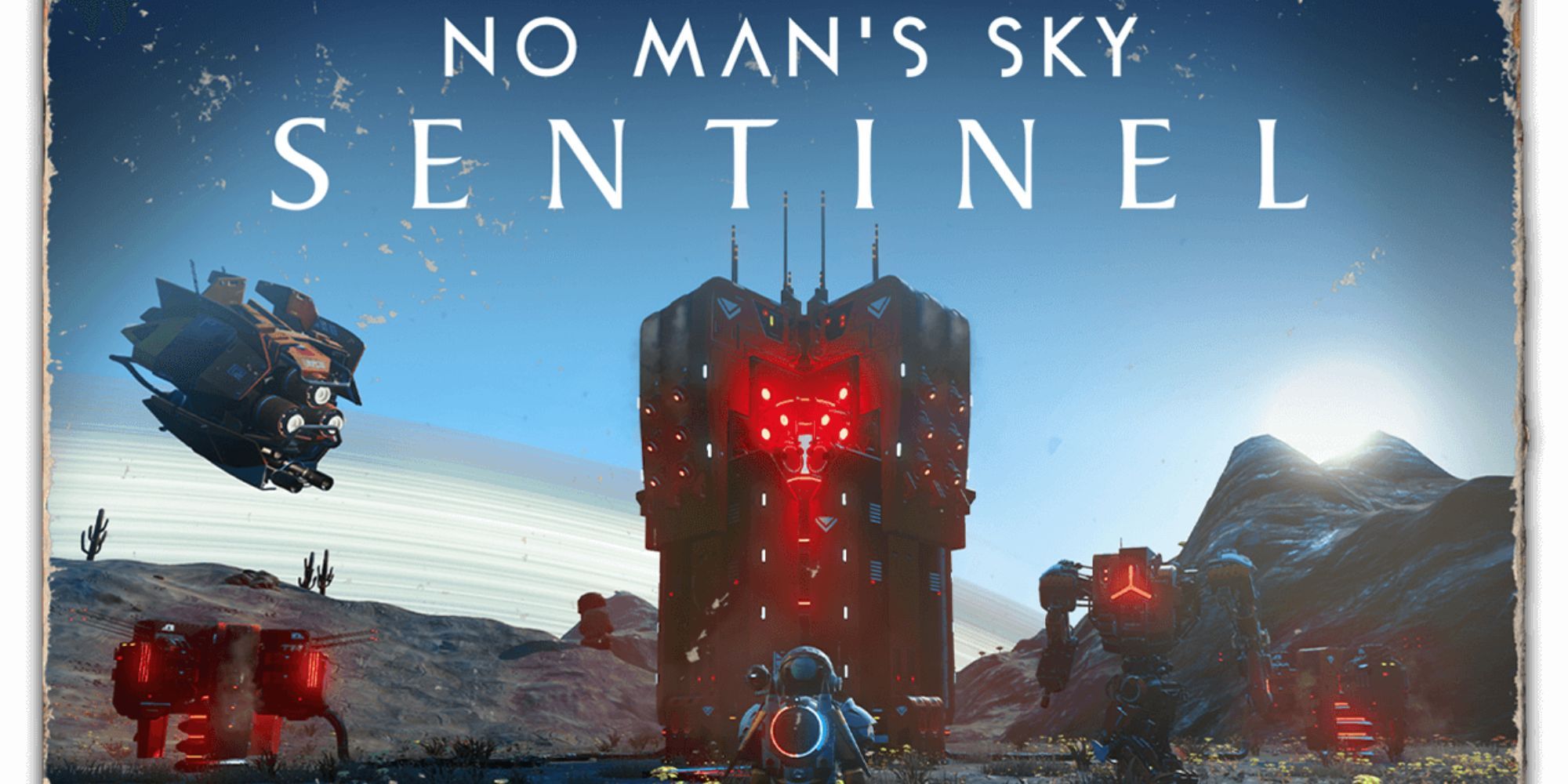 Release Date

February 2022

Biggest Additions

New Sentinel Presence, Types, And AI
Sentinel Pillars
Combat Improvements
The Sentinel update brought with it a whole host of additions and changes to the Sentinels and overall combat. Now with new types of Sentinel, including mechs and armored types, you would need to make use of new upgrades, fresher feeling combat, and maybe even the cloaking tech to make yourself invisible in order to override the Sentinel Pillars on planets, steal data, and then escape. Not only this, but the Minotaur received new upgrades and customizations, allowing it to be combat-ready, as well as installing AI to make it independent when not piloted.
RELATED: The Best Robots In Video Games
In the midst of improved combat, you could also see the improved visual effects with multi-tools, from the mining beam to the weaponry. Aside from this, there were a bunch of new additions in general and via the expedition at the time, such as a Royal Multi-Tool and a Sentinel Drone Companion which could be built to follow you around. Also added was support for AMD FidelityFX Super Resolution and Nvidia DLAA.
Back To Top →